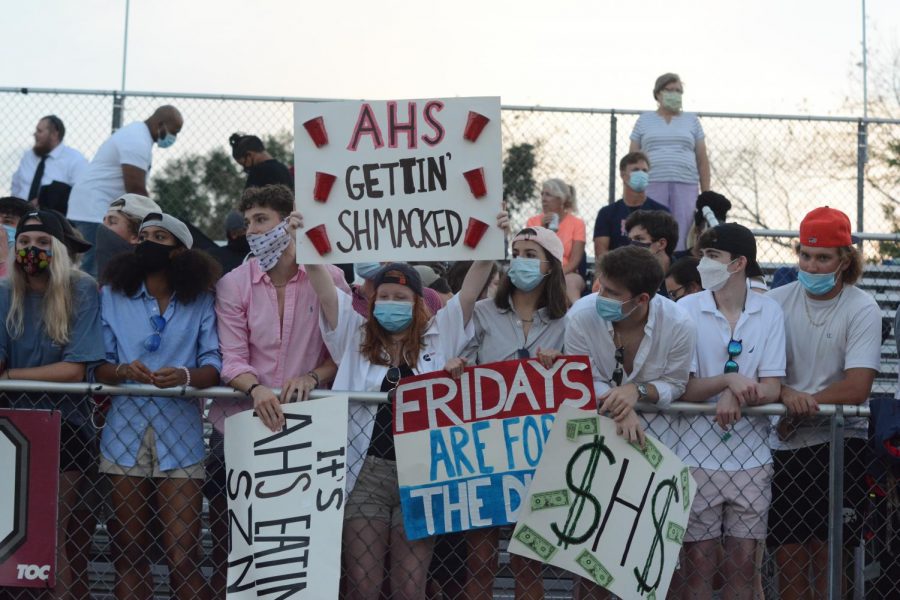 Cierra Carle
Masks Spell New Normal for Students
The Covid-19 pandemic has brought the world unprecedented times, and with that comes a "new normal" for high school students across the country.
From social distancing to mask mandates, the beginning of the 2020 school year is far from anything that the world could have imagined it to be a short year ago. This will have an impact on the way things are run within a classroom as Madison County transitions back to 'normal' in the coming weeks. Senior Hannah Perry believes that it is important to wear masks and follow CDC guidelines because it has been proven to work for other countries that Covid-19 impacted before the US.
"We've seen the good things it has done for other countries and we need to do the same in order to get back to normal," Perry said. "However until then, it is possible to see a silver lining in all of this. I think a lot of people have started to appreciate the time with their friends and family whom they don't live with because of quarantine. Not seeing people for months makes you really appreciate the time you get with them. Personally, I have become closer with my family, but I know that's not the case for others."
English teacher Renee Quaife also found a silver lining with quarantine in getting to spend time with her kids and saving money from not going out as much. She believes that with a little respect, the world can come together to defeat the virus.
"We live in such a selfish, self-serving world. Everyone looks out for their own needs and desires and wishes. People think their opinion is right and so everyone else is wrong. I miss the days when disagreements did not mean hatred," Quaife said. "I think if everyone just stopped and thought about someone else first, it would help us overcome these difficult times. The last world-changing event that I remember is the attack on 9/11. I remember how united everyone was after that. Everyone was an American. Everyone had their world rocked. Everyone was grappling with what happened and what was to come. There was this true sense of unity because we had a common enemy."
Quaife hopes that from this, people will learn to take better care of their own hygiene. She found it 'funny and gross' how many reminders were given for people to wash their hands. Like many around the globe, she found herself facing many daily changes because of the pandemic.
"The fact that I have to be sure my family has grabbed a mask before we leave the house is so strange, Quaife said. "If someone had told me in September 2019 that I would have a sign by my front door that read 'Masks?' to ensure we grab a mask, I would have to tell him he was crazy. It's strange that in some stores, someone stands there to disinfect the handle on the shopping cart before giving it to you. Someone sprays down the keypad after you check out in some stores."
While the wearing of masks has become a controversial topic across the United States, statistics are actively showing that it slows the spread of the virus, and combined with following social distancing guidelines, it may even stop the spread altogether. The CDC website says that the virus is known to spread through respiratory droplets, and emerging evidence from clinical and laboratory studies shows that properly worn masks (over the nose and mouth) reduce the spread of these droplets, and therefore the virus as well.
"I think in this difficult time, people need to be more empathetic and not just think about themselves," Perry said. "Please also need to be open minded and kind to one another. People are so scared of what's different from them and I honestly can't understand it. They need to realize that we're all humans and we're all trying our best to make it through life; no one is of lesser value than another. They need to also recognize that there are people in our country who are hurting, and instead of being close-minded, they need to put themselves in someone else's shoes. I am proud of our generation in that sense."
When students return back to school everyone will be required to wear their masks at all times. With school officials saying COVID-19 cases are down, it is important to them that with the return to school everyone tries to keep those numbers down by wearing masks. Even in society under a state-wide mask mandate, people are seen in public without one.
"With the Coronavirus, you would think that we would all unite behind the medical experts, news reports, and personal encounters related to this virus, but that hasn't been the case," Quaife said. "It's become political. That makes me sad, for families who lost loved ones, and yet, for some it is just a political pawn."