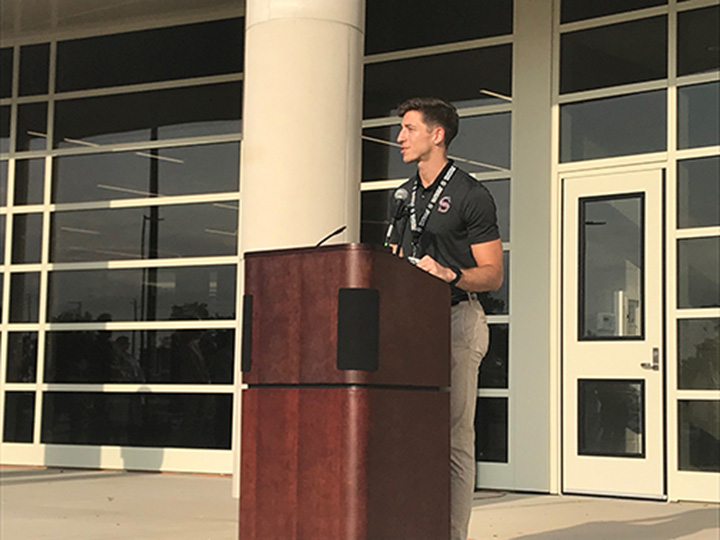 New Theater Teacher Brings Years of Experience
With a freshly built auditorium, it is no surprise that the theater program is taking on a whole new image and with that a new star will be taking the stage this school year, that star is new theater teacher Cody Carlton
Carlton has worked in the theater field for over 15 years and has directed, designed and acted in over 150 theatrical productions. He attended Jacksonville State University where he received a Bachelor of Science in Secondary Education English Language Arts as well as attended Regent University where he received his Mastesr of Art in Theater Arts. He has worked as a director, actor, choreographer, designer, producer and theater educator for regional, high school and university venues.
 "I have been teaching theater in some capacity or another since 2008. In college, I worked often as a teaching artist at various institutions and venues. I have been formally teaching in a classroom setting at both the collegiate and secondary levels since 2015," Carlton said. "I have taught Acting I and II, Technical Theatre, Character Workshop, Musical Theatre, Directing, Theatre History, Intro to Theatre and Theatre Appreciation. Honestly, I have kind of covered the gamut of theater classes."
When the job opening for a theater teacher at a high school in Harvest was posted, a friend of Carlton's shared that this job could possibly be a dream job for someone. That is what it was for Carlton. It took only three days from Carlton seeing the job posting to him accepting the position
"My colleague was right. When I saw the new facility for the first time, I knew that this was a place I wanted to be," Carlton said. "With the beginning of a new facility also comes the beginning of a new era of all performing arts here at Sparkman. This is an exciting time, and I can't wait to be part of it for many years to come."
 Carlton hopes to bring new structure and experiences to the department.  The acting training in classes will be more conservatory based with a focus on technique and style.  He also hopes to bring the knowledge he has garnered from his years of training and practitioning in all things theatrical to make the debut spring musical something that the Senators will never forget.
"I have big plans. As a program, we are going to make sure that we are nurturing, creating and presenting art to our community this school year," Carlton said. "It may look different in some ways, but different is only a chance for us to shine all the more brightly. Some of the plans are still a little 'hush-hush' at the moment, but I hope we can make some exciting announcements very soon."
When Carlton made his debut in a video introducing the freshly built performing arts center, students immediately loved his charming and energetic nature. The new theater has a total of 787 seats along with a large stage and professional lighting, Carlton could not be more excited to take the stage this school year as well as teaching his students in room 518.
"Let me start by saying that many of you probably don't know how incredibly lucky you are to have this amazing facility right on your campus. It is truly a phenomenal space. I can't wait for students to have a chance to really see it," Carlton said. "It is fitted with all the bells and whistles one could hope for. Having this space will greatly increase our ability to present higher and higher quality work while also providing hands on and workshop experience in the classroom. Although we are destined for a school year that will be like none before it, I still believe that it can be the best one as well."
 Carlton has big plans for the theater program but even bigger plans for his students. Even though this is his first year at the school, he understands many of the kids he is teaching have been dedicated to this program for their entire high school lives, and all he wants to do is make this year the best one yet.
"Each school year is one group of students' last year," Carlton said. "As a high school teacher, I want to impact all of the students, but this school year, I especially want to give our seniors a chance to grow and "make their mark" on the new stage."