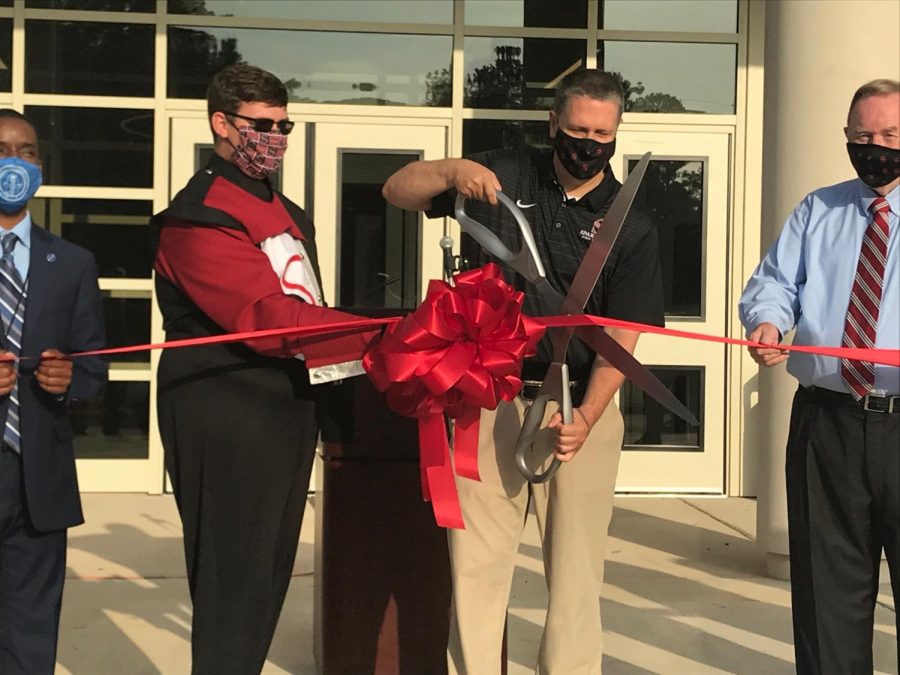 Photo Credit: Erin Coggins
Ribbon Cutting Ceremony Held for Fine Arts Facility
Members of the school board, central office and the school gathered in front of the new Fine Arts facility on Friday, Sept. 4 for the facility's ribbon cutting ceremony.
Principal Chris Shaw thanked the many people involved in making the dream of an auditorium come true for the community who has waited over a decade for one to be built on campus.
"I would like to thank the school board for helping make this happen for Sparkman High School," Shaw said. "A big thank you goes out to the contractors, architect and Mr. Joe Cuzzort for managing the project. I think I have Mr. Cuzzort's number on speed dial."
Madison County Superintendent Allen Perkins described the opening of the facility with a quote about seeing the unseen in building blocks.
"I know the students will do great things in this building," Perkins said. "I look forward to seeing the progress."
The new auditorium has 800 seats and will house the band, choir, drama, art and foreign language classrooms.
"Sparkman has always had a great reputation in the fine arts program and this just reinforces how great our program is," Shaw said. "The kids are super excited to get into it."
The ribbon cutting also offered a surprise with Sen. Tom Butler and State Rep. Andy Whitt took the podium. The two presented a check for $10,500 to be used for the fine arts programs at the school.
"I'm sure with a new facility, there are still things that need to be purchased," Butler said as he presented the check.