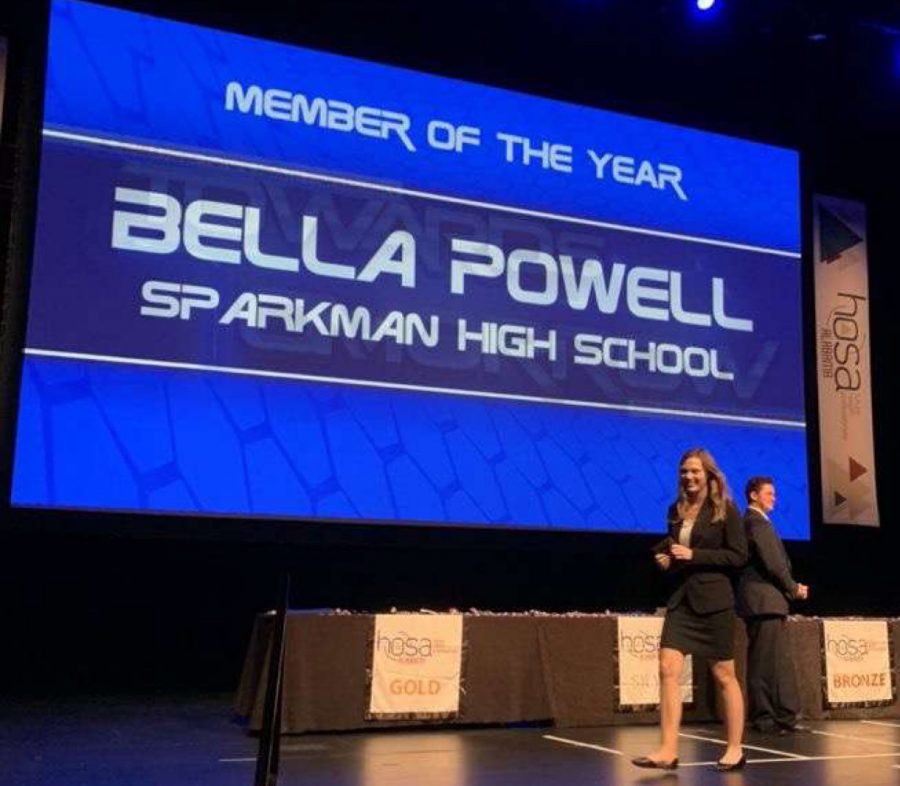 Photo Credit: Photo Courtesy Of Bella Powell
Taking Class On A Limb Leads Senior To High Honor
Not knowing what to do with her future, as a freshman, senior Bella Powell registered for Medical Academy. 
Flash forward three years and Powell received top honors in the program after being named the Alabama Health Occupational Students Association Member of the Year. 
"I had always heard how wonderful Medical Academy was and fell in love with it more and more after every class," Powell said. "Now I eat, breathe and live the program." 
Her first year was spent finding her passion through taking notes, participating in skills labs and excelling on tests, but still, Powell's full potential had not been reached. 
"I knew she was special when she entered the program as a sophomore but she was a little on the shy side," Medical Academy teacher Angela Holland said. "She was a little tentative at first but she has definitely come into her own over the past three years." 
Once enrolled in Therapeutic Services, Powell made the decision of joining the HOSA Biomedical Debate team. 
"Biomedical Debate forced me out of my shell and having to present a speech pushed me completely out of my comfort zone," Powell said. "From there I kept pushing boundaries and growing."
After months of preparation, Powell and her team placed first in the state competition and advanced to the HOSA International Competition.
With such success last year, Powell returned to the team this year. 
"Bella's work ethic is superior. She works hard and it pays off," Holland said. "Her team placed third this year at state and qualified for the HOSA International Conference this summer yet again.  She had her team at school at 7:30 am two to three days a week preparing for the event."
Now as a senior, Powell saw the need of a leader in the program and decided to fill it. 
"I needed someone to fill the hole that previous seniors left, and Bella did just that," Holland said. "I have handed her various assignments like the Middle School program, the National Pediatric Cancer Foundation fundraisers and other projects and she takes them and runs." 
Powell helped found the HOSA middle school program at both Monrovia and Sparkman Middle. After meeting with each principal to discuss what she would like the Middle School Medical Mentor Club to be, she created a team of high school medical students who implemented the program at each middle school. The team taught basic medical skills as they prepared the teams for HOSA competitive events in December. 
"Eighteen of our middle schoolers placed in the top six at state," Powell said. "It was amazing to see our hard work and theirs pay off in just the first year of competition." 
Another passion of Powell's, steaming from her involvement in the Medical Academy, was continuing the annual volleyball game fundraiser to benefit the National Pediatric Cancer Foundation. 
"After hearing the words 'your dad has been diagnosed with cancer,' I cannot imagine a parent being told that their child was diagnosed with cancer," Powell said. "Seeing those struggles and recognizing the opportunity we had to help these families, I knew it was something I wanted to continue." 
Powell coordinated ticket sales promoted the game and ultimately raised $1,594 for the foundation. 
"My intention was never to be the HOSA Member of the Year in anything I organized," Powell said. "I just saw firsthand how HOSA grew me and changed me and the potential it had to make a difference and I wanted as many students to experience the same thing I got to." 
Powell will now compete for the International Member of the year this summer in Houston, Texas. 
"Bella is a precious young woman with a heart of gold; she honestly sets the tone for the program," Holland said. "Everyone wants to be like Bella."