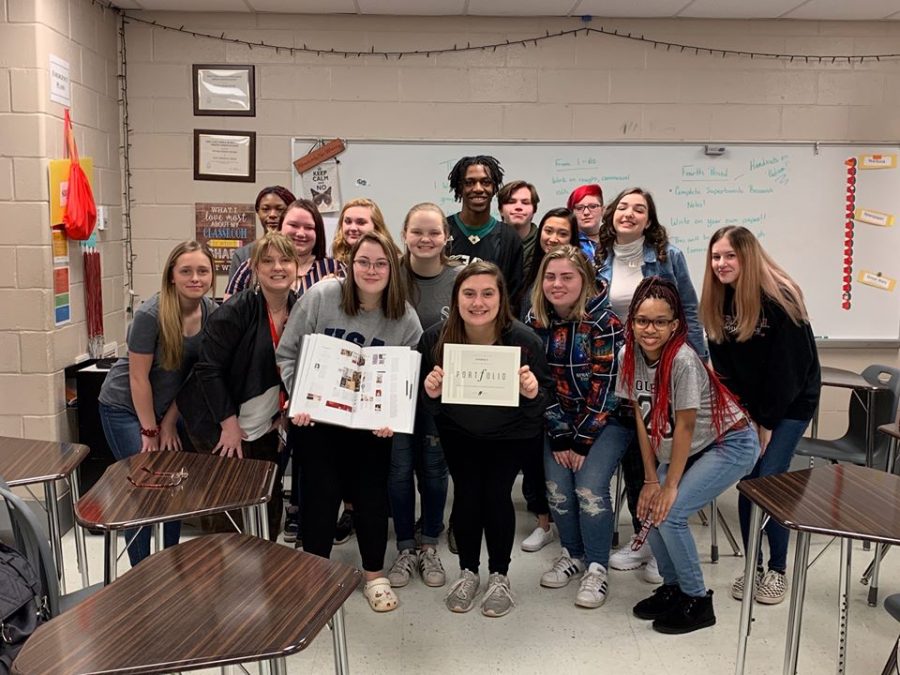 Photo Credit: Erin Coggins
Yearbook Company Awards Yearbook Staff In Portfolio
Yearbooks hold important memories of high school that people continue to cherish for decades after graduation. The Sparkman yearbook staff has worked hard this year, shown in their award winnings. 
"Last year at ASPA I won third for sports page design along with my partner Alisa Strait. It meant a lot to me because it was my first year in the yearbook class," junior Isabel Pollard said. 
Being in yearbook, students learn skills like designing and writing. Most importantly, they learn leadership. As an editor, they must watch over their peers and guide them to make the yearbook the best it can be. 
"Knowing that we have all taught each other different things helps me to know that even though the awards were not directly mine, I still accomplished something," junior Maicee Brooke said. 
Although not everyone on the yearbook staff received an award at ASPA, it actually gives the students motivation to put in more work to receive an award next year. The staff recognizes that the yearbook is very important to the student body as a memorium.  
"The yearbook is vital because it is nostalgic to look back on who you once were versus who you are now," Brooke said. 
From the beginning of the school year in August, the staff must work every day to make sure the yearbook is selling and that the book is designed in a timely manner. In order to get awards for the yearbook the staff must have elements of teamwork and dedication that goes beyond what any other class requires. 
"Every morning we come in and start working. I love our staff because we all work and help one another. Some even come during AO to get their pages finished," Pollard said. 
The staff has won over 50 awards in the past year and are number one in the state. At ASPA this year, the staff won All Alabama for the yearbook. Although the yearbook for this year is no longer on sale, there may be extras left once the yearbooks are distributed, so do not miss out on the opportunity to have the yearbook. 
"The book this year is a lot more modern. I hope people understand the concept, and enjoy it. The entire staff continues to strive every year to win awards and make the yearbook better than it was last year," Pollard said.