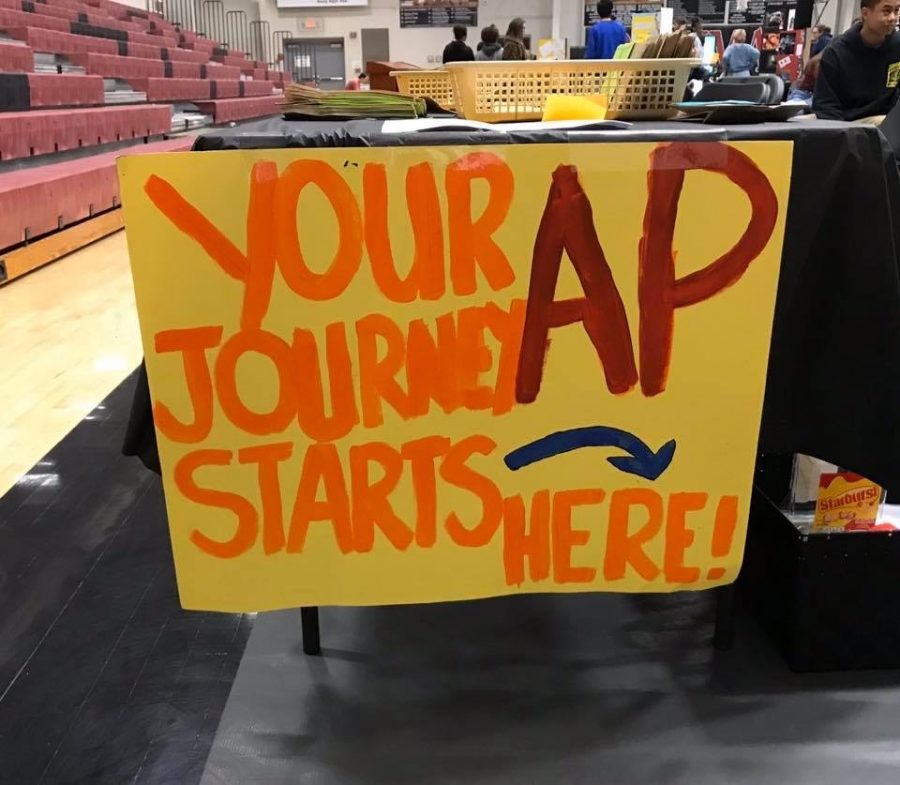 Photo Credit: Photo by Saylor Cuzzort
AP Fair Held During Day
On Tuesday, Feb. 11 students were able to visit the AP Class Fair during the school day for the first time. 
This annual event- usually held after school- is hosted annually as sophomores and juniors begin creating their class and schedule request forms for the upcoming school year. In hopes of reaching more students, the event was held throughout the day for students and after school for parents. 
"We wanted to create an opportunity for every student to be introduced to the idea of AP classes,"  recruitment committee chair and AP Biology teacher, Amber Kimbrell said. "If even one student tries an AP class for the first time we call that a success." 
Students had the opportunity to walk through the gym and explore each AP class' table and presentation. Each table was run by a current student enrolled in the course.
"I told each and every student that visited my table the truth," eight time AP student Amani Blair said.  "In these classes, all you need to do is complete your work and pay attention because the teachers are great."
For students like sophomore Anna Lawler, who had questions about certain courses and were not familiar with every AP class offered, the day was crucial. 
"I finally decided what classes I am going to take," Lawler said. "I even found a few more I was interested in taking in the future." 
The participation throughout the day made the future for AP a hopeful one.
"We are one of the most diverse schools in the state," Kimbrell said. "In saying that, AP teachers want our classes to look just as diverse as the hallways."