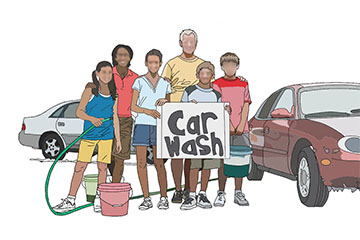 Booster Club Parents Allow Programs to Thrive
There are many clubs, teams and even classes that lack funding for their particular activity, but booster parents provide the funding and helpful hands that organizations could not work without.
None of Sparkman's extracurricular activities are funded by the school, so each one must find a way to keep money coming in. Boosters do more for activity funding than people may think.
"Anything we pay for, coaches, uniforms, equipment, etc we provide through fundraising and fees. Our team is limited to only what booster funds provide," booster parent of the football team, Amber Bacon said.
It can be stressful on parents to come up with enough money to cover all of their teams needs, but they do have one another to make sure everything gets done and the money gets raised.
"Not all the time, but sometimes it is hard to juggle work, life, and 'boosting'.The boosters are like a team itself, everyone takes a load, it's not just on one person," booster parent of the theater program, Svetla Stuchlik said.
To raise money booster parents must go out in their community. They try to find sponsors and organize car washes. Anything that will make sure their child's year is successful.
"I have planned fundraisers, dinners, recognition events, and meetings," booster parent of the softball team, Melissa Warman said.
With having to raise so much money, booster parents are seen as extremely important for students. Students say they that without them they would not have the program they love most.
"They come up with all of our money. They get our sponsors, t-shirts and make sure we are fed at rehearsal. Without them our program would not strive," senior Sara Watson said.
Students look up to their boosters. Boosters do their best to make sure not only their kid is successful, but every student is successful as well.
"Last year when we went through that three week time period where we did not have a theater teacher, the boosters were really there. They supported us and really treated us like their own," senior Sarah Schomburg.
Being a booster is hard work, but they love to help no matter how stressful it gets. It is always rewarding for the boosters to support in any way they can. They get to make memories and create a family with their organization. They know the students value all their hard work.
"Their overall appreciation," Bacon said. "Just the parents and the kids that are truly appreciative. It makes it all worth it."