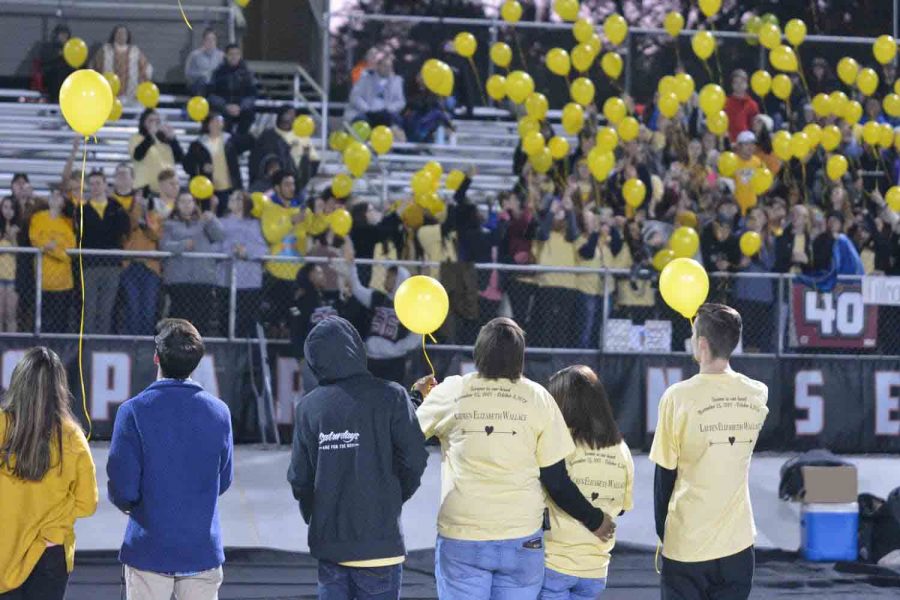 Isabel Pollard
Students Honor Classmate's Life With Balloon Release
After the loss of classmate, Lauren Wallace, the senior class took to making sure Lauren's life was celebrated and honored.
Making yellow T-shirts and blowing up 120 yellow balloons, students prepared to honor Lauren one final time.
"It was evident we wanted to show respect to Lauren and her family from the moments we had learned what had happened," SGA representative, Keaton Rolphs said. "What better way than on senior night and in Lauren's favorite color- yellow."
At 6:15 Friday night, Lauren's family was welcomed to the field alongside SGA and administration. Here they were presented with flowers and each handed a balloon as senator stadium- dressed in yellow- remembered the light Lauren was.
"To me, it was a way we could properly say goodbye, not just as individuals but as a class," friend Andrew Gurley said.
After a moment of silence, yellow balloons with memories of Lauren written in sharpie soared to the sky, each a symbol of light Lauren was to the school.
"The only thing that was going through my mind was me thinking how she would be reacting to everything we were doing for her," Gurley said. "I was saying 'I love you' to her and 'I hope you like everything' as I let go of my balloon."