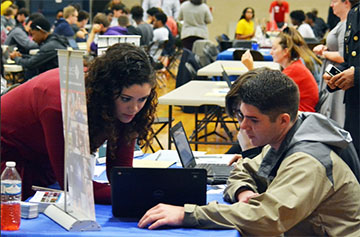 Photo Credit: Kate Irving
Seniors Participate In Event To Further Their Futures
With anticipation about senior portraits, last football games and cap and gowns, college is something that can be easily overshadowed. 
On Oct. 30, every senior had the chance to apply to the college of their choice. The event, hosted by the College and Career Center, took place in Gym 2. Seniors were called alphabetically to attend the fair. 
"We're helping the students find the best college that would benefit them the most," college representative Adam Ellis said. 
College representatives from universities all over the state came in to meet the class of 2020, including Auburn, Alabama and Jacksonville State University. Each senior turned in an online application. 
"Today I applied to the University of Alabama," senior Sarah Neis said. "It was a great opportunity to sit down and actually apply while talking to the representative as well as have the application fee waived."  
Students who had already been accepted to a college had the chance to apply to others to increase their options while those who had not applied learned more about what different colleges had to offer. 
"The idea of today is to help further seniors' education after high school," principal Chris Shaw said.