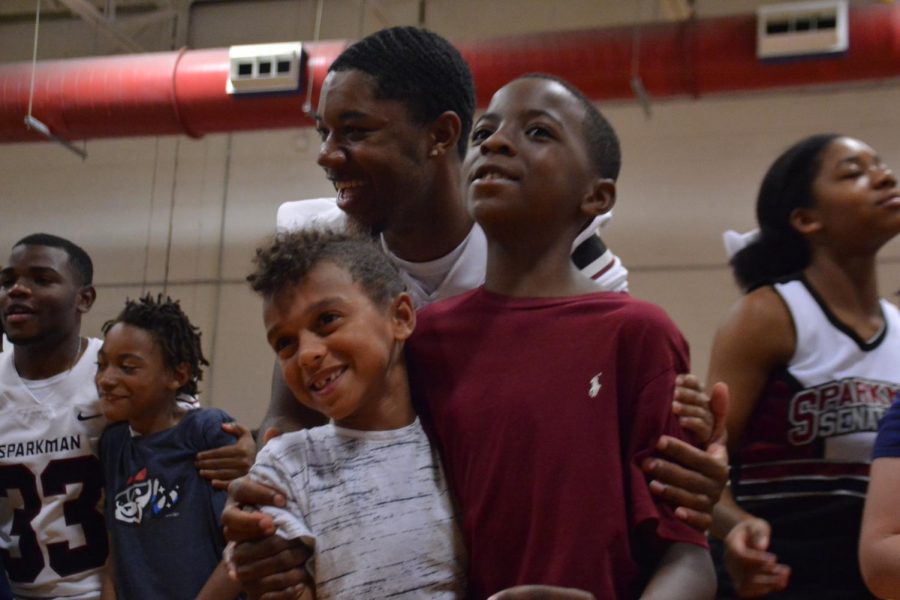 Cierra Carle
Students Pump Up Elementary Schools with Pep Rallies
Outside of Friday nights it is easy to forget the support that surrounds the football team, cheerleaders and band. In the last three weeks, these groups have seen first hand the love that the community has for them. 
Senior football players, the cheerleading team, band members and SGA officers spent September 11 and 25 showing feeder elementary and middle schools what it means to be a senator. 
"Our goal is always to get the younger kids excited and involved in the football season and Sparkman High School in general", SGA officer, Keaton Rohlfs said. "They are the future of our school so showing pride and supporting starts at a young age."
As students flooded in the gyms, the band played the fight song, Marley, waverider, the hey song and Sail while the cheerleaders danced along. Hands began to clap to the music and eyes began to widen as the banner was raised and the football team ran through. 
"Running through the banner every Friday night never gets old," Kevin Clinard said. "But running through it to a crowd of elementary kids who think you are the coolest people, makes it a little better." 
High-fives were given and the football players sat in the crowd next to the kids that idolize them. Cheer captains, Amari Burton and Latana Sparrow, began teaching the words to "Let's Go Sparkman," "S Pump It Up Pump it up H, S" and numerous other sideline cheers alongside their team, encouraging the crowd to cheer with them. 
When it was time to stunt and tumble, "woah" poured out of wide open mouths. 
"It is always cool to think that we were once the kids in the crowd amazed by what the cheerleaders could do and so excited to hear the band or see the football team," cheerleader, Sydney Carter said. "Now we are the people giving back." 
In order to show what a real highschool pep rally is like, SGA took to organizing a game for students to play against each other. This game, nearly the same as the asteroid toss played at the homecoming pep rally, had students lay on scooters and hold a laundry basket as a partner pushed them to collect tinfoil balls or "asteroids" and take them back to another team member. This third team member wore green oven mitts -intended to took like alien hands- and attempted to throw the balls through the hole cut out of a rocket. 
"Because our homecoming week theme was space we wanted to get everyone involved in celebrating with us," Rohlfs said. "The game is always just another way to get students involved and get them excited." 
Intended to get the entire community to come out and support the team on Friday nights and to ensure every kids role in cheering on the team, players, cheerleaders and SGA members each picked students to come on the floor with them and do one last fun cheer.
"My favorite part was when a football player picked me to go in the front and do the "go bananas" cheer," fourth grader Lawson Ledbetter said. "Everyone went bananas for Sparkman."