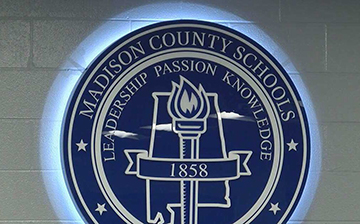 Photo Credit: Courtesy of Tim Hall
Superintendent Search To Replace Massey Underway
With the recent resignation of Superintendent Matt Massey, Madison County Schools will be seeing changes in leadership throughout the school year. 
After Massey was selected as the first president of the Alabama School of Cyber Technology and Engineering, deputy superintendent, Mark Minskey was voted to take the role and serve as interim superintendent. 
"Dr. Minskey is a very capable leader," Madison County Schools spokesman, Tim Hall said. "He has the education background and he knows this system."
A former principal for the Madison County System, his wife, a Madison County teacher and his children, Madison County students, Minskey has seen how this system works on a daily basis from every angle. 
"It is great for teachers, students and even the community that the board selected an interim superintendent that knows us," Hall said. "I think the candidate chosen to fulfill the entirety of this term needs to know the district as well." 
State Law states the board has 180 day to appoint a full time replacement to fulfill the remaining term, in this case a three year fulfillment. 
To assist in the task of locating candidates and individuals who might want to serve as superintendent, The Madison County Board of Education has enlisted the help of The Alabama Association of School Boards (AASB) to review resumes and narrow down the search for the next superintendent.
"We want to create an elite school system," Hall said. "That does not mean that we are better than anyone but that we are setting an example to motivate, inspire and encourage other school systems to do some of the things we are doing in Madison County."