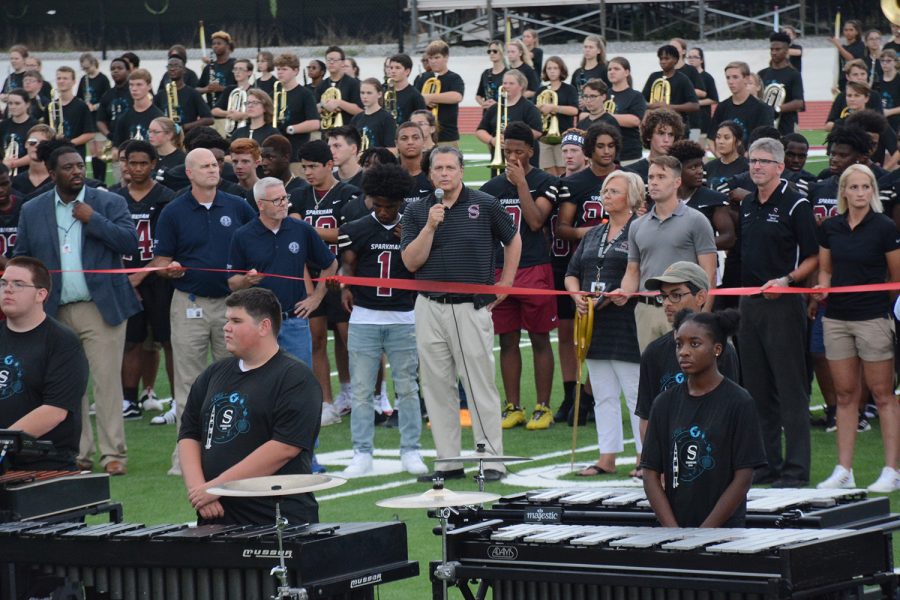 Photo Credit: Alisa Strait
Athletes Look Forward To Playing In New Facility
With the new and exciting additions coming to the school within the next year, students have a lot to look forward with the incoming building of a sky bridge and an auditorium. However, the school has already received some new renovations to its track and changed the football field to a turf surface which should excite anybody interested in either programs.
"Our hope is that with a new track we can get more of the student body out to participate in school events," track coach Cedric Austin said. "Getting more people out for support to help us compete at the highest level is our main goal."
Some players have spoken out towards the injuries that the former track caused due to the conditions. With the school's new and improved track, the injuries track and field athletes suffer should be kept to a minimum.  
"Using a rubber track will help prevent shin splints or even worse injuries," junior runner Bailey Wallace said. "Our team is looking more confident and ready than ever."
As part of the $2 million renovation, the athletic field's new turf can be marked for both football and soccer. The turf is made of rolls of turf, stitched together and features prefabricated lines. Players and coaches alike are excited about the energy the new upgrades will bring.
"I'm really looking forward to playing on a new field and having the fans out every week, it will be a wonderful environment to play in," varsity quarterback , junior Nick Sawyer said. "The new field has completely changed our mentality and we are looking forward to having a great season in a great stadium."
The athletes realize the improvements do not guarantee the team a winning record and defensive lineman, junior Karon White, knows the importance of staying sharp and focused.
"It's a blessing to have the facilities we do now but we still have to be able to tap into our potential and skills on game day," White said. "It's really a reminder that every week we have to go out and protect our home field."