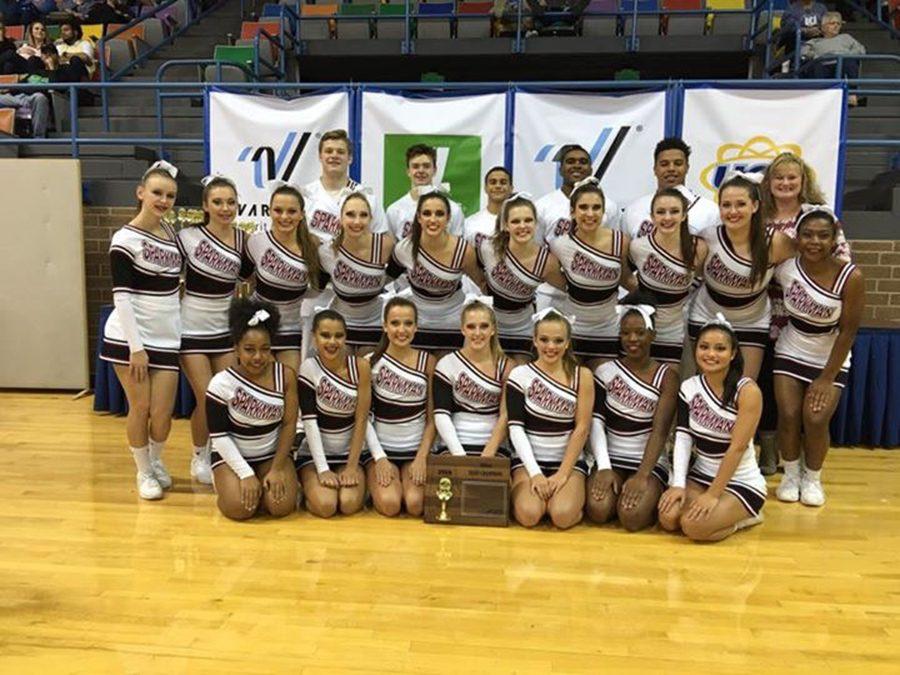 Cheerleaders Reign Victorious at State
Winning is one thing, tradition is another. The varsity cheerleading team kept tradition thriving after bringing home another state championship trophy.
On Nov. 19, 2016, the team competed at Wallace State Community College in the AHSAA State competition. Placing first in the small varsity coed division, the team took home its' 26 state title since 1991.
"We are very excited to have been able to continue our tradition of winning the State Competition," varsity cheerleading coach Lisa Aderholt said.
The team dominated in their division by 171 points. With five judges on the panel, they scored 483 points out of the possible 500 and placed first overall out of four teams. The school's cheerleading program has been known for its' exceptional skills in all judged areas on the mat, while some teams only excel in certain areas like group-stunting, tumbling, coed stunts or synchronization.
"We strive to be the best in all areas and this team, so far, is doing a good job at that," Aderhold said. "However, we still have to continue to improve for the next level."
Even though Sparkman has dominated in regional, state and national competitions over the years, each win is still important and special in its' own way. As a 25-year coach, Aderholt knows this.
"Even after all these years of coaching, I still get excited at every competition we win because each team is so very unique," Aderholt said.
The team starts out each practice and competition with a prayer, making sure God is getting the glory every time they perform. The AHSSA State competition being no different, and when the music turned on the team did just as they practiced.
"It is always amazing to get to see all of our hard work pay off,"  junior cheerleader Nikki Ahlf said. "Especially when I have the best teammates to celebrate with."
Practicing since the team was picked in March, they have been preparing and anxiously waiting for this stop on their road to Nationals. Although AHSAA State does not have an affect on competing at Nationals, tradition says otherwise.
"This win definitely builds up our confidence for Nationals," senior and cheerleader Whitney Converse said.
A lot of blood, sweat and tears are poured onto the nine blue mats that lay on the wooden gym floor in which the team practices eight to nine times a week for up to two hours at a time. After receiving their bid for Nationals from the North Alabama Regional on Nov. 5 2016, they hit the mat again to gear up for the AHSAA State competition, just as they are continuing to do now to prepare for the UCA Nationals in February.
"We now know the feeling of winning and we will strive to feel that way once again down in Orlando," Converse said. "Now we will push and work harder than we ever have before."
The team is beginning to add difficulty to their routine to bring home another national title and to add to their white jacket collection. This national win being the third in three years making the team back to back to back champions granted they win. Every year the team is chasing that national title, so one day they can have their picture on "The Wall" like all the hardworking champions.
"It is such an honor and blessing to be able to be a part of the winning Sparkman Tradition," Ahlf said. "It can be a lot to live up to at times, but the reminder of that legacy is what pushes us to work harder and be the best we can be."