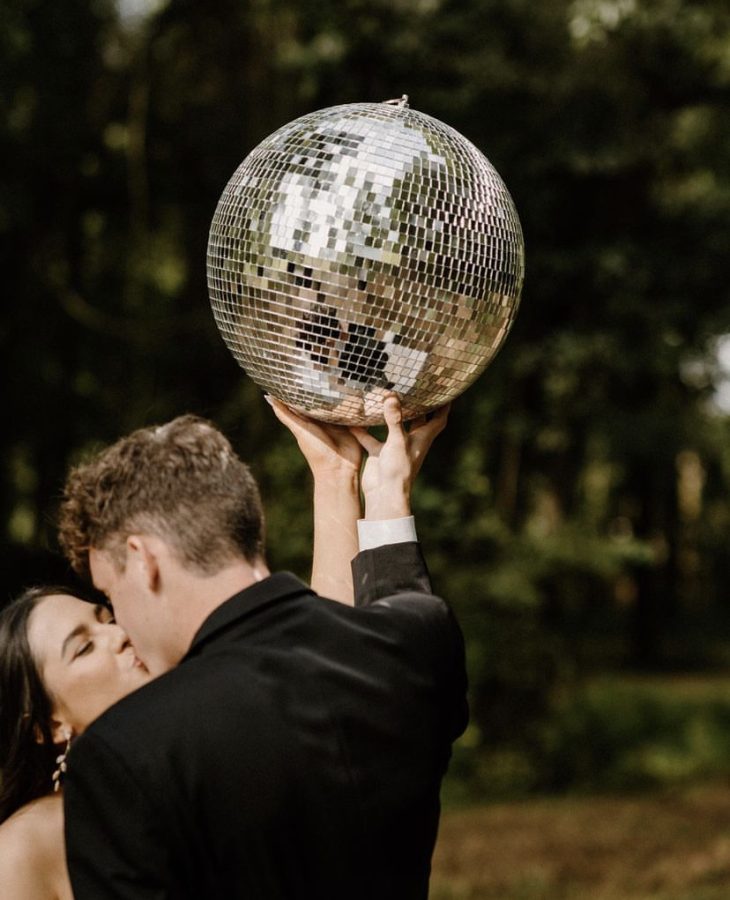 Photo Credit: Photo Courtesy of Kendall Cope
Alumni Disco Their Way Into Business
Making their way onto the dance floor of business, alumni Haley and Tanner Bell opened a local disco ball and dance floor rental company. The duo is interested in getting their disco ball business on a roll. 
The two got married in August of 2021 and were left with decorations from their wedding without any future plans. They decided to start "Disco Bells" later that December in an effort to not only keep their decorations, but have an opportunity to make revenue. 
"I just couldn't part with my disco balls after the wedding, but I didn't want them cluttering up the garage with no use," Haley said. I decided I could just rent them all out and I proposed the crazy idea to Tanner."
The Bells discussed the idea and came to the conclusion that they were willing to pursue it. Their first task was determining a creative name for their business that would catch the eye of the public and be personalized to their family.
"I wanted a name that encapsulated our humor and family while also being straightforward enough that people knew what kind of business we are and what we offer," Haley said. "So we settled on "Disco Bells" since it's a play on our last name." 
The Bells run the business by themselves, and therefore are able to work on it from their home. They have done six events, including collaborating with other professionals to decorate.
"We once worked with a balloon stylist to integrate both balloons and the disco balls into the backdrop at Campus 805 for a young professionals event. We also did a styled shoot for the Scout Guide of Huntsville where they used our disco balls in their pictures at a roller skating rink," Tanner said. 
One of their biggest challenges thus far has been outreach. Tanner is currently working on a website, and they are doing the majority of their bookings and advertising through word of mouth, working with party planners, Facebook Marketplace and Instagram.
"The website has been my main priority right now with the business and it's taken some time to get going. Right now, you can DM our Instagram @discobellrentals, but soon we will have a website that provides an easier way to rent our items," Tanner said.
The couple hopes to collaborate with more local vendors and do more styled shoots. Their future plans include making a dedicated storage space at their home for all of their rental products.
"We hope to keep renting as long as it stays profitable and there is interest," Haley said. "I love getting the opportunity to save reminders of the best day of my life and add a sparkly touch to others' special days."