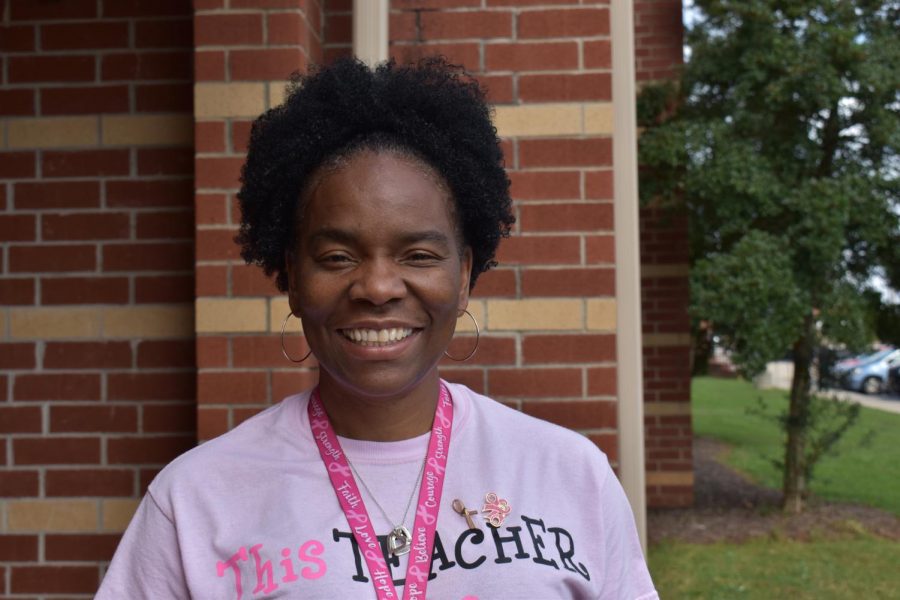 Special Education Assistant Overcomes Cancer, Receives Award
October 23, 2020
The years 2004, 2010, 2018 and 2020 have all been life-changing for Special Education Assistant, Stacy Gilbert. Each of the first three years was years Gilbert found out she had cancer, and the last she was named Support Person of the Year. 
Gilbert was first diagnosed with breast cancer in 2004 and from that day forward Gilbert's life was never the same.
"Finding out I had cancer the first time was disheartening, but I knew I had to survive for my children," Gilbert said. "I just pushed my personal feelings to the side and kept moving forward."
Her second diagnosis was in 2010. After she recovered from her second bout of breast cancer Gilbert's family urged her to have a double mastectomy in order to lower her risk of getting cancer again. While her family was on board and ready, something told Gilbert she wasn't ready.
"I knew physically, I could do it but mentally, emotionally and spiritually, I was not there," Gilbert said. "I knew they loved me but I had to help them understand that every part of me had to be in sync with my healing or it would not be a good outcome."
Towards the end of Gilbert's third battle with cancer, she was hired as a one-on-one in the SLC building. Quickly Gilbert fell in love with the students around her, and she watched children accomplish things that were almost impossible- and that is exactly what Gilbert did as well, accomplish the impossible. She survived cancer for the third time. 
"That's why working in the SLC department is rewarding- because you see children from all walks of life, with very different home dynamics, different learning disorders and physical limitations- yet they still come to school smiling. Sometimes they are in pain but they are not letting their circumstances dictate their outcome for learning," Gilbert said. "During my time at school while fighting cancer, the kids were very protective over me. The people around me always would ask me if I was okay or how I felt. I really appreciated that because there were days that were hard but you can not burden people with things they can not change. You just love with the love they give you and keep moving."
This year when it was time to announce Teacher and Support Person of the year, Gilbert did not think much of it. Even when the principal began describing the person that had won, Gilbert thought it was for another teacher she works with inside the SLC building. Then when he began describing the number of times this person had conquered cancer, she finally realized.
"Being Support Person of the Year means to me. That someone not only sees what I contribute but also acknowledges me for doing so. That means a lot to know your work is not in vain," Gilbert said. "If I could represent one thing as Support Person of the Year as a Sparkman employee, my key thing would be to believe and endure. Believe, because one must first believe that what they desire is obtainable. Endurance, because with anything in life, you must endure the good and the bad to find your true greatness. You can sometimes give in a little, but never give up."
Gilbert conquered cancer but also conquered the hearts of hundreds of students that have walked their way into the SLC building. Her passion for helping others is one that she now believes does not go unnoticed in any way and neither does her strength and bravery.
 "I just live every day with gratitude, love and peace, hoping and praying that I have inspired enough, taught enough and listened enough to be of worth to someone in need," Gilbert said. "At the end of the day for me cancer does not mean death, nor do I allow it to dictate my life. I am a mere character in a book that was already written- I just happen to be the main character in this one."