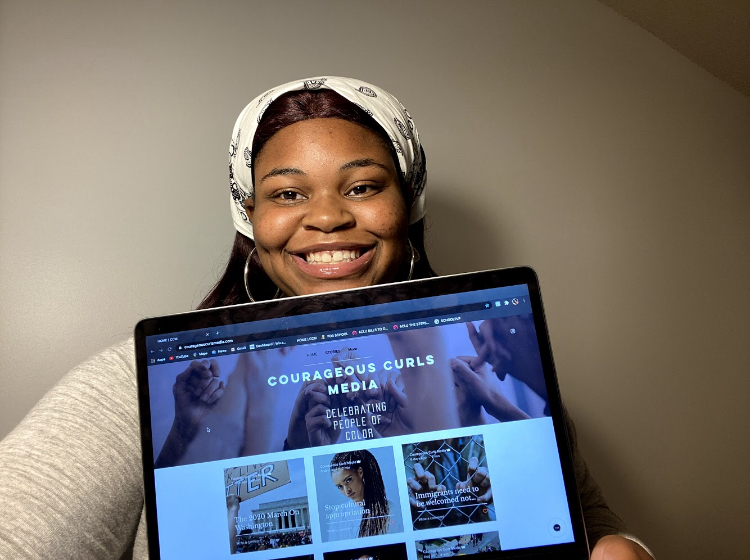 Photo Credit: Sarah Chase
Senior Uses Time In Quarantine To Talk About Pressing Issues
Quarantine sparked all kinds of different ideas for young minds across the world. From finding their first jobs to picking up new hobbies, kids and teens everywhere started filling the everlasting boredom that never seemed to end. For senior Sarah Chase, finding something to keep her occupied and Coronavirus-free turned into much more than a summer break hobby. 
Courageous Curls Media is an online media company founded and created by Chase that focuses on featuring minorities all across America. The company aims to share the stories of people of color as well as offering updated news, opinion pieces and entertainment columns for all to enjoy.
Chase first came up with the idea for a media company late last year. She wanted to highlight the Black voices and minds in the world that she believes make our world so beautiful. She also contemplated starting a lifestyle magazine however she pushed off both ideas due to the lack of time and resources. Then, the pandemic struck . While many students all across the world were relieved by the end of school work for the year, Chase had only just started working. 
"I decided to start it then because why not. I was at home bored and could not write for the Crimson Crier, so I decided to act on that idea in the moment. While starting it, I realized that not just Black struggles and success need to be told, but so do the struggles and success of every person of color," Chase said. "I was up late multiple nights starting the Instagram page and making our website. I was so excited and motivated because I finally started something that I was really passionate about, it was something I knew I wanted to keep doing for as long as I could."
The name Courageous Curls Media has a unique story behind it that Chase believes embodies the vision and message behind her company. She came up with the name even before she realized she would be featuring all people of color. Chase dealt with her own battles with her natural hair growing up, and the perms and constant straightening really took a toll on her hair. It took her a while to decide to go natural- but even then she had a hard time feeling comfortable as her hair was transitioning.
"I thought what I went through with my hair was something many other people of color could relate to. My hair shows my heritage and represents every black woman that fought for me since slavery, it is a representation of who I am. Black women or any woman of color that decides to wear their natural curls after America has told them that it is not beautiful is not only admirable, but courageous," Chase said. "The name Courageous Curls Media is a tribute to every woman of color who rocks their natural curls."
Courageous Curls Media currently has five weekly writers that do anything from helping run the social media accounts to highlighting minorities they feel are doing amazing things. The girls are currently working on a campaign about social issues, hoping to bring light to the many problems affecting minorities today. Each has their own diverse experience with journalism ranging from professional experience in the field as well as those with none at all. 
"I write for the Crimson Crier and when the school year abruptly ended and I could not write for our news magazine, I knew I still wanted an outlet for my creative spirit," senior Grace Moore said. "Sarah messaged me about joining her team and I knew right away I wanted to be a part of what she was doing. I think it's so inspiring how she brings a light to the beautiful minorities in our country."
Chase has received an abundance of positive feedback from friends, family and even strangers that view her site. Even though the company is still fairly new, it is constantly growing everyday and continues to reach people all across the country.
"We are just really focused on sharing stories to our readers that mean so much to us and we hope the work we put in everyday to do that will pay off," Chase said.
Once she saved enough money to buy the domain for the site, Chase took a leap of faith and quit her job to focus on Courageous Curls Media to where she can take the company. By the end of the year Chase hopes to reach over a thousand followers on Instagram and to begin selling merchandise. She also hopes to add an additional section to her site that hosts a paid subscription that allows readers to access exclusive content for a small monthly fee.
"I wanted the site to be as professional as possible, and while I loved my job I knew that I wanted to focus more on Courageous Curls Media because it is something I love and am very passionate about," Chase said. "I wanted to start raising money for the company and we are currently looking into fundraising. I work on the company constantly and enjoy growing it everyday."
Courageous Curls Media will not be Chase's last endeavor in the journalism field or advocating for people of color. She hopes to attend college and major in print or broadcast journalism. She believes running this company has taught her how to communicate ideas and information while giving others a voice.
"America, whether it is consciously or not, has a tendency to fear people of color or have their negative views or stereotypes of minorities. I have heard it, been victim to it and I have had family members be victims to it as well," Chase said. "I just wanted to show Americans that people of color are not just their stereotypes or the negative views many people project onto them. We are business owners, success stories, hard workers, we belong in STEM jobs and so much more."
If you are someone that is interested in being featured or submitting any works you can contact Sarah at [email protected].