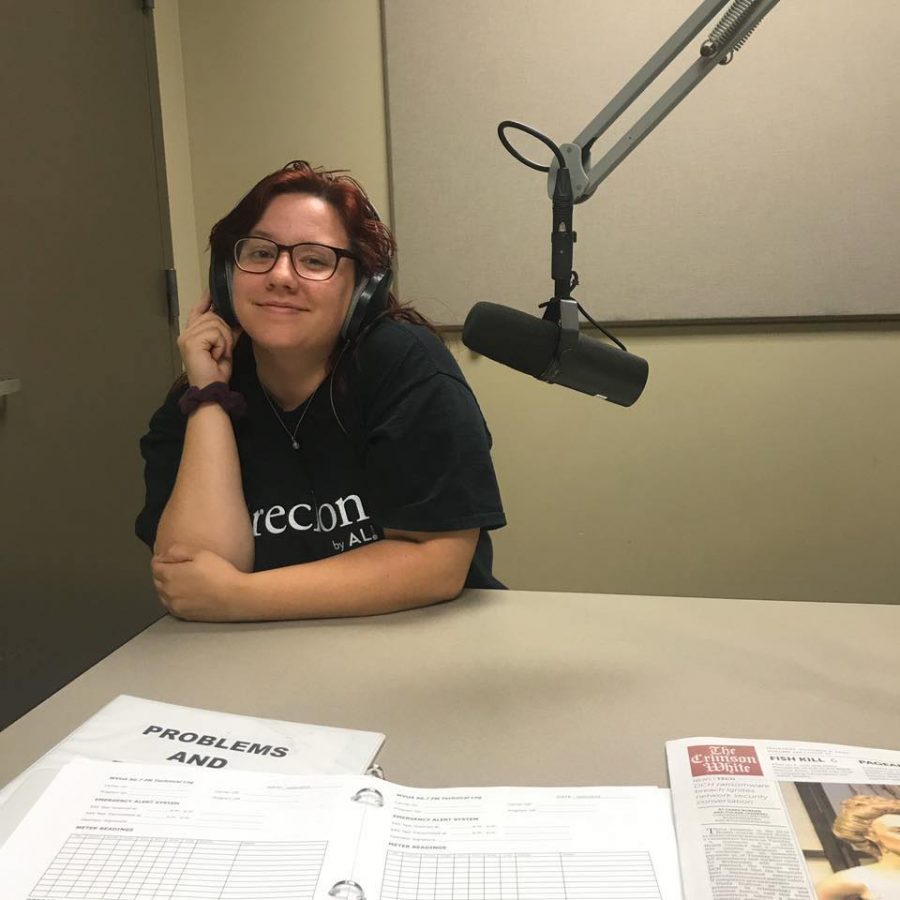 Photo Credit: Photo Courtesy Of Savannah Bullard
Journalism Alumni Continues Talent At University Of Alabama
Journalism is defined by more than the front cover of a newspaper or magazine. Within the contents of a publication, you will find much more than stories of disaster, politics and breaking news. With each turn of the page, you delve deeper into the real passion these journalists have for these subjects. Opening up an issue of The Crimson White, you learn not just the story on the page, but the story of the writer.
The current editor-in-chief of The Crimson White, Savannah Bullard began as a graphic designer in her sophomore year at the University of Alabama. Then becoming lead page designer the fall of her junior year, in the spring of her junior year, she served as the production editor and now serves as editor-in-chief. Growing in her passion for journalism Bullard has taken what was a high school hobby for most into her lifelong career. 
"Being a journalist keeps me so plugged into my campus and community in a way that I don't think many people get to experience. I basically get to learn about everything that's happening in the world and be a vital part of the conversation surrounding some of life's biggest issues. Plus, through those conversations, I get to write stories that make an impact and, sometimes, enact change," Bullard said. "It's an immense honor and privilege to have that kind of social power. But, it's also extremely humbling because the responsibility to drive public discourse is huge and using that power for good is a cornerstone trait of a good journalist."
Having previous work experience of being on her high school journalism staff the Crimson Crier, Bullard learned a lot of the information taught in first-year college classes from adviser Erin Coggins. Substituting for lifestyles editor her sophomore year many quickly began to see Bullard's passion and drive. Junior year of high school she was the news editor and in her senior year was the in-depth editor, Bullard held many positions of editorship in high school and used that to her advantage upon starting college.
"I have always loved writing, so when I got to high school I knew I wanted to do some sort of extracurricular activity that involved it. I needed one more class to fill my schedule and I saw the applications for the newspaper and yearbook in the office at Sparkman 9 one day," Bullard said. "I basically decided I wanted to make eight issues in a year instead of one book, so I applied for the Crimson Crier. The experience was incredible, and it prepared me for college in a way I never anticipated."
Attending the Alabama Scholastic Press Association state conventions for the three years she was on the high school staff was a major factor in deciding what to do with her life. Participating in — and winning — different ASPA competitions lit a major fire in her that made her want to keep getting better. As well as attending Southern Interscholastic Press Association conferences in South Carolina and National Scholastic Press Association conventions in Washington DC and Orlando further deepened that love. It wasn't until she was accepted to attend the ASPA Multicultural Journalism Workshop in 2014 that really solidified her passion for journalism. That program made her fall in love with doing news as a career. After that summer, it was pretty much decided that UA was her next dream.
"Working for the Crimson Crier at the high school is what made me fall in love with journalism, so when I was ready to graduate and go to college, I knew this was the career I wanted to pursue," Bullard said. "I was given so many amazing opportunities as a member of the newspaper staff, from honing my writing skills to learning multimedia strategies and competing on the state, regional and national levels."
The Crimson White prints twice a week, reaching a circulation of about 15,000, and has a 24/7 online presence that garners over one million readers annually. Bullard's days are jammed packed and full of leading and guidance. She manages a staff of about 100 students who deliver the news for UA and the Tuscaloosa community. Her days are mostly spent editing stories, putting out the occasional fire, engaging on social media, planning for the next issue, talking with administrators and helping her editors in any way they need. 
"It's a hefty job but I couldn't imagine doing anything else," Bullard said.
With every high school or college publication, editors-in-chiefs come and go. Every May they walk across the stage and move the tassel on their graduation caps from right to left saying goodbye to the past four years of their life. The impact Bullard has made on her staff and for their publication is going to be one that lasts a lot longer than it took for her to receive her degree. 
"I came to Bama specifically to study journalism here and work on The Crimson White's staff. I guess you could say I'm living my dream right now," Bullard said. "This position means everything to me. The Crimson White is a 125-year-old publication that is deeply rooted in The University of Alabama's history. Its previous editors-in-chief include bestselling authors, New York-based magazine editors, Pulitzer Prize winners, even John Sparkman! The position is highly renowned and demands the very best from those who hold it, so the fact that I was chosen for it means the world to me as a journalist and as a person."