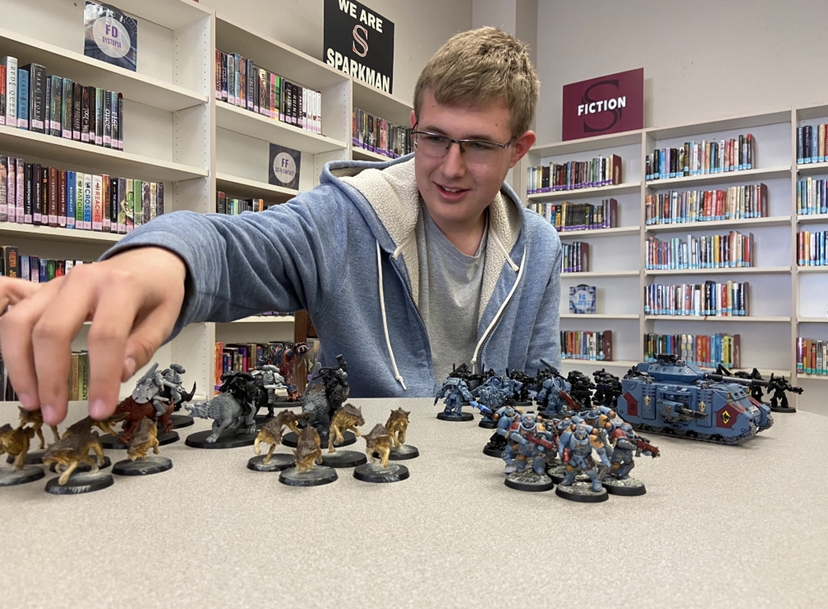 Student Expresses Passion For Painting
Senior Bailey Seyboth seems like your average high school student but if you take a closer look, you will find a passion for building and painting wooden models, miniature aircrafts and even a tabletop game.
Roughly ten years ago, Seyboth discovered his passion for constructing models and instantly fell in love. He started out small with fun sized figurines made of wood and eventually graduated to building model aircrafts ranging from WWII to the future. 
As the years progressed, so did Seyboth's projects. About three years ago, Seyboth began painting his models and putting them on display in his bedroom. He began using whatever free time he got to work with his passion.
 When Seyboth began working in high school, he realized that the amount of free time he had would become limited. Rather than halting his hobby completely, Seyboth began finding any time he could to work on his projects ‒ even during his fourth block class. 
He started out small to test the waters. Once he was sure he could get away with painting during his free time, Seyboth began bringing full sized models to Mrs. Coggins's great wars class and painting them when Coggins gave him the go ahead. 
Naturally, when Seyboth began painting wooden models and plastic bottles during the last ten minutes of class, students and teachers became curious as to why he was putting so much effort into his projects. Were they a gift for someone special? Was Seyboth selling them to whoever would be willing to buy them? Were they apart of a larger project?
While a million questions lingered on the tips of everyone's tongues, each person wondered the same thing ‒ why? The truth may be less complicated than any other conclusion. Seyboth simply enjoys painting miniature models.
Whether he builds a futuristic model airplane or he paints a plastic bottle, Seyboth loves what he does and he will continue to do so for as long as he can.