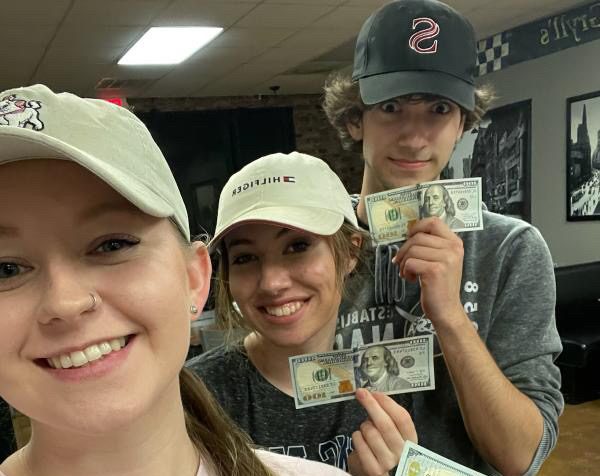 Photo Credit: Katrina Hyunh
Seniors Learn How to Balance School With Work
Located on Jeff Road is a local burger and wings joint called Johnny Grylls. While it is known for its well loved food items, like Philly cheesesteaks or patty melts, it is also known to be run by high school students.
Senior Izeah Torres balances senior year alongside his job. Being a recent addition to the Johnny Grylls staff, Torres gets a feel of the responsibility it takes.
"Since I am pretty new, I mainly have night shifts after school. It starts at 4 o'clock until closing time. It usually gets busy every night about two hours before closing time but working at Johnny's, there is always something to do around the work area," Torres said.
Torres talks about his memorable experiences, which involve lending a hearing ear to new people he meets and building relationships with them.
"My favorite part about working at Johnny's is just talking to people, meeting new people and hearing the different stories or days that they have had," Torres said.
Having more experience on staff for over a year, senior Allison Forsythe quickly picks up responsibilities and duties even at a young age.
"It is a lot of responsibility for a 17-year-old but I believe it has taught me a lot of life lessons," Forsythe.
Forsythe is involved in the school's theater program but still works about 20-30 hours a week. She holds the position of a shift lead and a cook. Forsythe is the main woman in charge when it comes to leading others or cooking food but luckily her job does not hold her extracurriculars against her.
"The job definitely does interfere a lot," Forsythe said. "My boss does lean on me a lot but one great thing about this job is that he is very lenient with our schedules. When the play or musical comes around, my boss is very flexible with my schedule and understands where my priorities are."
Like every other job, there are struggles that come with it and for Forsythe these struggles can be challenging but also rewarding as she gains more leadership and experience. Forsythe leads with her head held high to keep herself and her coworkers afloat.
"It's really easy to get overwhelmed when there's a lot of orders and there's only one cook but I've gotten better at keeping myself organized and on a straight path when we get in a rush," Forsythe said. "Being in charge, I've learned to be able to keep myself up to speed as well as making sure everyone has everything prepared so we can get stuff out as quickly as possible. This adds a lot of stress but I've learned how to balance this issue and still enjoy my job."
One of the perks for Forsythe, despite the challenging sides of this job, is being able to work side-by-side with your chosen family.
"I am so close with so many of my coworkers that sometimes it does not even feel like I am working. Since Johnny Grylls is a local restaurant, we have a smaller crew which has created a family," Forsythe said. "Sometimes it feels like I am getting paid to just hangout with friends. This job has definitely created some of my favorite friendships, which is part of the reason why I love this job."