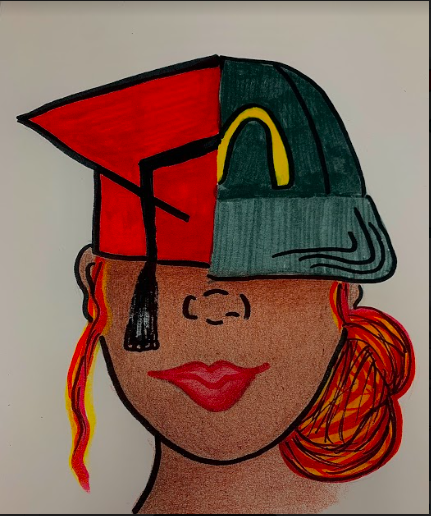 Photo Credit: Illustraion by Autumn Gollop
Co-Op Provides Good Experience
Clocking in, the co-op program gives students the chance to go to work during the school day. Students get to replace their elective classes with an opportunity to get extra hours at work.
Co-op is a class where students are given the chance to leave school during their assigned blocks and go to work instead of one of the offered elective classes. This can allow students to go to work earlier than they previously had been after school and could prevent them from working their regular late hours.
"I think it's nice because I get to work more and I don't have to work as late as I used to," senior RaeLeigh Bauer said.
This program, due to the increased responsibility that it gives students, has extra steps for students hoping to add it to their schedule. These steps help the counselors ensure that the students taking the class meet the standards set by the school administration.
"To get into co-op I had to have a job where I consistently get hours," senior Jack Caffall said. "I also had to get three teacher recommendations to show that I had good work ethic and fill out the co-op application form."
After these requirements are met, students who have been accepted into co-op start to experience the difference that it has on their schedule. One change that co-op can bring is the addition of free time in comparison to the schedule that a working student may have had previously. 
"It allows me to go to the gym after school and also get plenty of hours at work," Caffall said. "It also gives me a lot of time to get my homework done before I go to practice or sporting events." 
This free time that co-op brings can be a big factor in why students choose to put the class in their schedule. That time can relieve a student from the stress of going straight from school to work consistently throughout the week and give them a chance to relax.
"I love going to work for a high school class," Caffall said. "It allows me to feel like I have more responsibility and am in more control of my day."