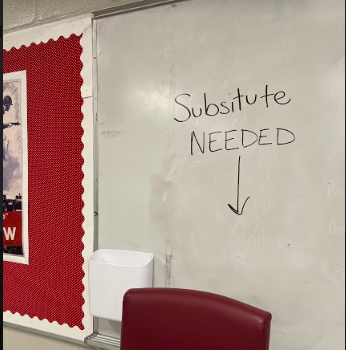 Photo Credit: Kimberly McDonald
Substitute Explains the Reason Behind Substitute Shortage
As substitutes become harder to find, their importance becomes easier to see.
Over the past few years, society has changed in many ways. This trend extends into substituting. Substitute teachers have become much harder to find. Many schools have so few subs that they are resorting to faculty filling in whenever they are able. 
"There is definitely a sub shortage," substitute teacher Michelle Sebastion said. "It's challenging for some people to be willing to go into a classroom because of concerns over safety or just general disrespect that subs put up with from some students."
Schools are trying to find a solution to this problem. Many school boards are discussing changing substitute policies in hopes of drawing in more substitutes. 
According to WHNT News 19 over 50 Alabama districts are "lowering the standard of qualifications like not requiring a four-year degree and lowering the age limit from 21."
The lack of subs has brought to life how important their job is. They are a key part of a school's functioning. They make sure that when a teacher is not present, the class can still stay on track, and remain both safe and efficient. 
"Walking into a new classroom or school every day is challenging. It's almost like a brand-new job with new people each time," Sebastian said, "every classroom is different with its own set of rules, plans and emergency procedures and I have a very limited amount of time to figure it all out before students start coming in."
It is a difficult job that is often not given much appreciation. Often students are more disrespectful to substitutes, as they do not see them as an authority figure. This makes the already difficult job, that much more difficult.
"Kids will always be kids, but there seem to be more behavior issues over the last few years than there were in years past," Sebastian said, " For example, 6 years ago I didn't have to tell a student to sit down and stop making a TikTok video in the corner of the room."
Though a definite cause is not clear, a combination of behavior change, lack of appreciation, the Coronavirus and the job economy may all be causes of the current shortage. Along with an unclear cause, there is also no definite solution at this time. However, it is clear that this issue has brought to life how important substitutes are. 
"It is definitely a challenge," Sebastian said, "but I stayed on as a substitute because I genuinely enjoy working at Sparkman and with the students. It's cool helping the kids as they grow and learn."