Photo Credit: Ashley Davis
Students Use Fashion To Express Themselves
Standing out in their choice of clothes, Ashley Davis, Matt Brown, Zoey Clements, Destiny Deasia and Neela Cole, are people that believe their clothes make them stand out by their colors and fitting. These teens believe they are inspired by artists, models and designers. Students' different taste is what they see describes their personality.
Junior, Ashley Davis, believes that her style stands out from everyone else. Davis believes she enjoys an elegant taste in her style and shows her as refined. Davis has shown herself to be different in style throughout her experience in highschool.
"The way I stand out is that I don't dress in sweatpants and hoodies, there is nothing wrong with it if that's you, but I don't like to dress the same as everyone else," Davis said.
Davis remembers her parents always bought her and her sister nice children clothes and has always enjoyed wearing the sense of style they have. 
"I appreciate that I don't look like everyone else when it comes to how I dress. It makes me feel happy and gives me high self-esteem," Davis said.
Davis takes her inspiration from the famous fashion designer, Christian Soriano, who she believes style has changed the fashion industry and Davis believes Soriano's fashion inspires the way she stands out.
"His style is very colorful, and dramatic. And that's how I am. I really enjoy his style and he is a big inspiration to me," Davis said.
Davis enjoys shopping online and visiting local clothing stores. She likes shopping on the online clothes shop, SHEIN, and enjoys traveling to Belk, TJ Maxx and different boutiques.
"I really do not have a favorite. If I see something I like, I buy it," Davis said. "It all depends on what they have, and the season."
Zoe Clements is a junior and believes that she stands out through her darker shades. Clements sees her style as diverse and sophisticated. She knows her personality is the inspiration for her style.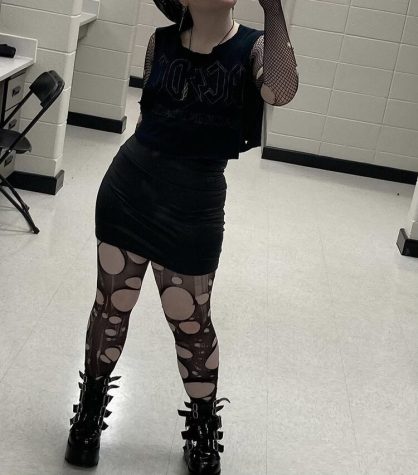 "I don't think I stand out too much," Clements said. " but sometimes I feel like how I present myself in the outfits I wear is what stands out the most."
Clements remembers her journey to finding her sense of style. She believes that she has come a long way after not knowing what her interest in fashion was. As her inspiration grew Clements learned what she liked and how to show it off with her personality.
"I appreciate that I can pull off most styles. I take a lot of inspiration from artists I follow and TV shows I've watched. Seeing the different designs that these artists create with clothes and the details make me wanna dress better," Clements said.
American actress Winona Ryder and music artist, Atushi Sakurai, are some of the inspirations Clements has been able to look to. Their style is what Clements sees as people who have given her the courage to stand out.
"They are two of my favorites because they have the sophisticated grunge look that I love," Clements said.
Clements does not believe that she has fallen to certain brands but believes she enjoys shopping online or going thrifting. Her favorite place to shop is H&M where she finds her favorite trends and designs.
"If it's good, it's good. My favorite stores help me try new stuff and also know what I really don't want to wear," Clements said.
Destiny Deasia believes her style serves as another outlet to her personality. Expressing herself through a variety of designs is what she says is her specialty. Deasia believes that her height is something she uses to express her confidence.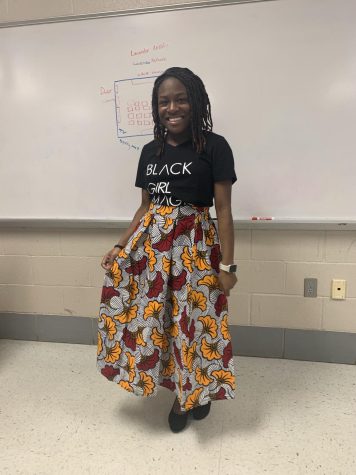 "My style describes me in a fun way," Deasia said. "I stand out because I try to reflect my positivity through my clothes."
Deasia says when she was younger she loved the tomboy style. Now Deasia is expanding in her creativity in style and says she wants to express herself in new ways that are more diverse.
"I appreciate the fact that I don't restrict myself to a certain style. Everything inspires my fashion. If I see something or someone Wearing a style that I like I just change it in my own way. I like to try everything," Deasia said.
Deasia believes she likes a variety of stores but she believes she enjoys trying thrift stores first  to see if she can find what she needs for her style and likes shopping online as well.
"I'm a visual person so before I go looking for clothes I know what style I'm going for," Deasia said.
Deasia says for her inspiration she enjoys looking up to models and people who preach body positivity. Deasia remembers her journey of learning to love herself and the body she was born with.
"In fashion people try to restrict people to a certain style because of their body type," Deasia said. "It is important because I had to learn to love myself."
Junior, Neela Cole, likes to show her creative and unique side through her style. Standing out through colors and jewelry is what makes her noticeable down the hallways.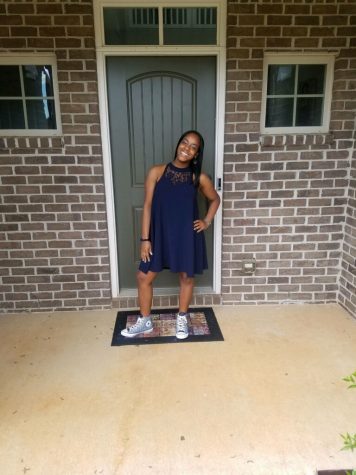 "For me to wear a variety of colored dresses, sweaters or even dangling earrings, I say that I stand out the most out of my peers," Cole said.
She says she appreciates showing her excitement and gloomy days through color. Her vibrant and lively colors show her happiness and her dull colors represent her bad days. Cole believes her personality motivates her style.
"If I look great, then I feel great. If I do not feel like I look my best, then I will not feel my best," Cole said.
Cole believes her inspirations are people like Rihana, Halsey and Zendaya. She says she looks up to them because they are bold and unapologetic. 
"These women never care about what anyone says or thinks about their choice of style," Cole said.
Shopping at Walmart, H&M, Forever 21 and Kohl's are where she says she likes to shop. She says she enjoys these stores because they have her style at an affordable price.
"These stores help me find what I like," Cole said. "Providing numerous clothes that I would never imagine to wear."
Senior, Matt Brown, defines himself as someone who is bold, vivacious and eccentric. What he believes makes him stand out is also what he believes brings a light to fashion.
"I stand out by dressing up and always wanting to look nice where I feel, especially highschool kids, who don't care about what they are wearing, and I think that makes me stand out by always wanting to look nice," Brown said.
Brown believes his inspiration comes from the fashion of the 70s and the New-Age. Brown believes he appreciates how the fashion industry has evolved over the decades and wants to express his appreciation through what he wears.
"I really appreciate the color combination and color diversity of my clothing and my style. There is not really anyone in the industry that inspires my fashion, but I do like to keep up with trends and what's " In," Brown said.
Brown says he is a huge fan of H&M and Izod brands. Brown believes stores like Belk, H&M and various thrift stores are stores that help him find what he likes.
" Their clothes are always really nice and are the kind of clothes I really like to wear," Brown said. "They feel great and look great and that's what I really like about them."