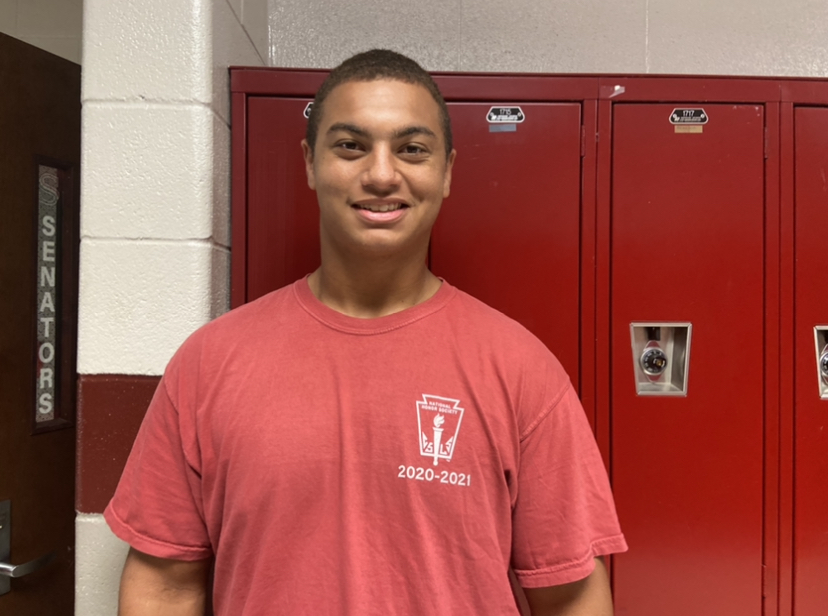 Photo Credit: Emma Headrick
Senior Talks Winning SGA Executive Chairman Position
Crimson Crier: What was your initial reaction when you found out you won Executive Chairman?
Jacob Edwards: I was actually pretty excited – although I knew I had a good chance of winning, I still had some doubt just because all candidates running were excellent people.
CC: What do you hope to accomplish for Sparkman High School during your term?
Edwards: My goal this year is to just make all classes more inclusive into the happenings throughout the year and make this year one to remember.
CC: What challenges do you foresee in the coming year and how do you plan on overcoming them?
Edwards: COVID definitely is a challenge that just seems to continue into this school year, as far as masking and social distancing protocols. The only way to overcome this is finding innovative/intuitive ways to make things happen and continue to advocate on slowing the spread of the virus.
CC: Why did you decide to run for Executive Chairman?
Edwards: The position was honestly something I've yearned for since freshman year, and with my desire to just have more excitement at school and with support from my peers I knew it was time to run.
CC: Do you plan on pursuing politics after high school and college? If so, why?
Edwards: Absolutely.  Many others already know that my biggest goal is to run for the president of the United States. This of course will take some work, and I will need to start by climbing the ladder of the political world.
CC: COVID will obviously be a continuous obstacle throughout the year. What words do you have for those who may be worried?
Edwards: I feel as though this virus will most likely be never-ending. The best thing we can do to combat this is to stay safe and slow the spread. I know this may serve as an inconvenience to many, but in the long run, it just allows us to do so many other things to make up for it.
CC: What plans do you have for the year ahead as Executive Chairman?
Edwards: I've campaigned on revamping pep rallies due to the lack of them last year, which in itself is a major hurdle to jump. But not only that, I can't wait to boost student involvement through new dress-up days for homecoming, bonfires, faculty vs student games, and of course our new partnership with Travelin' Tom's Coffee.
CC: You play football. How do you think you can use skills you've learned while playing football to better do your job as Executive Chairman?
Edwards: Playing football, or really any sport will teach you valuable lessons of teamwork. From listening to what others have to say, or just finding a way to make things happen. I believe that by playing football for so long, I have accrued the ability to work extremely hard on my peer's behalf as well.
CC: Is there anything else you would like our readers to know about you?
Edwards: I come from a family of four brothers, raised by a single mom. When I tell you that nothing in life is given, I am living proof. The position I'm in has given me extremely valuable experience on leadership and decision making. With that being said, I will never make any decisions for you that will impose negative consequences or that puts yourself in a vulnerable position. I can't wait for you to see what's coming in the next year, there is just so much to look forward to.