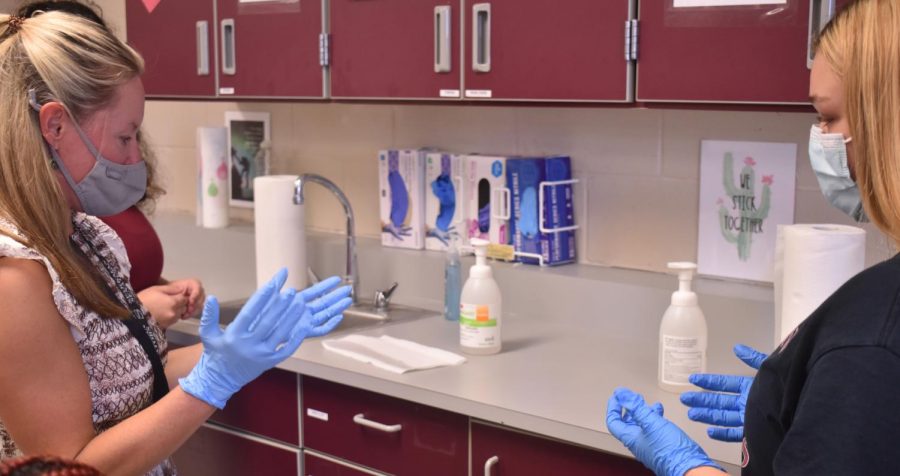 Photo Credit: Amiyah Baker
New Teachers Take On Medical Academy
Coming back from the infamous "quarantine" and in an entirely new school year in the middle of the pandemic, the Sparkman High School Medical academy said goodbye to the head teachers in charge. Kenzie Fralix and Sarah Richey have both moved on to new places. No worries though, Katelynn Finnegan and Amber McDonald have come in to take their places.
McDonald had originally gone to school for elementary education at Pearl River College in Mississippi but later transferred to the University of Southern Mississippi. McDonald then received her first degree from Vermont College in Vermont and later after a small break from school returned to her studies at Castleton State in 2006 and received a nursing degree. Finally McDonald received a graduate degree as a certified registered nurse practitioner from Frontier Nursing Academy. McDonald has worked with patients of various ages working as a labor and delivery nurse and family practitioner.
"I continue to return to education throughout my career. I feel that knowledge is power, and I want others to have information to make better decisions. I hope to spark an interest for individuals to possibly enter the medical field in a variety of positions/ways," McDonald said.
Finnegan went to the University of Alabama and earned a bachelor's degree in Exercise Science in 2014 and later went back to school at Calhoun Community College for an Associate's Degree as a Physical therapist. Finnegan worked in Huntsville Hospital as a tech while she was in school and has been working as a LPTA at an outpatient orthopedic clinic for the last four years.
"When I started my career, I had several students intern with me and I learned about this program. I come from an education and medical background and this was the perfect blend of the two fields," Finnegan said.
In between the learning of medical terms, abbreviations, diagnoses, protocols and more, students learn how to check pulses, blood pressure, establish good hand hygiene and how to make beds. Finnegan says she wants medical students to be prepared for a lot of real world challenges.
"
 "I would love for the program to be a place of guidance for students. I want students that are curious in the medical field to be able to figure out what they want to do. This is such an incredible opportunity to be able to get out into the medical world and shadow many different professions to figure out what path they may like to take.""
— Katelynn Finnegan
Both teachers have high hopes for the school year as they have been preparing for multiple classes and teaching two different subjects of Health Science. The medical program is beneficial to the students who want to go into the medical field because the teachers are doing their best to make sure it resembles the real jobs in the field as much as possible.
"I would love to see the program to more closely resemble the workforce, offer more than one option for certification for those continuing through all health science classes, the class to be known for its rigor and quality and interactive learning," McDonald said. "I would love to have more of a community presence as well.  With the goal of having students enter the healthcare world immediately after high school or continue with further education."
Finnegan has been trying to make her students as comfortable as possible in her classes with real world scenarios that will be coming later in the year.
"We would like for our students to be able to create a resume, create a plan for after high school and to be able to budget," Finnegan said.  "We are hopeful to get our students CPR certified and to be able to certify them for a career after college."