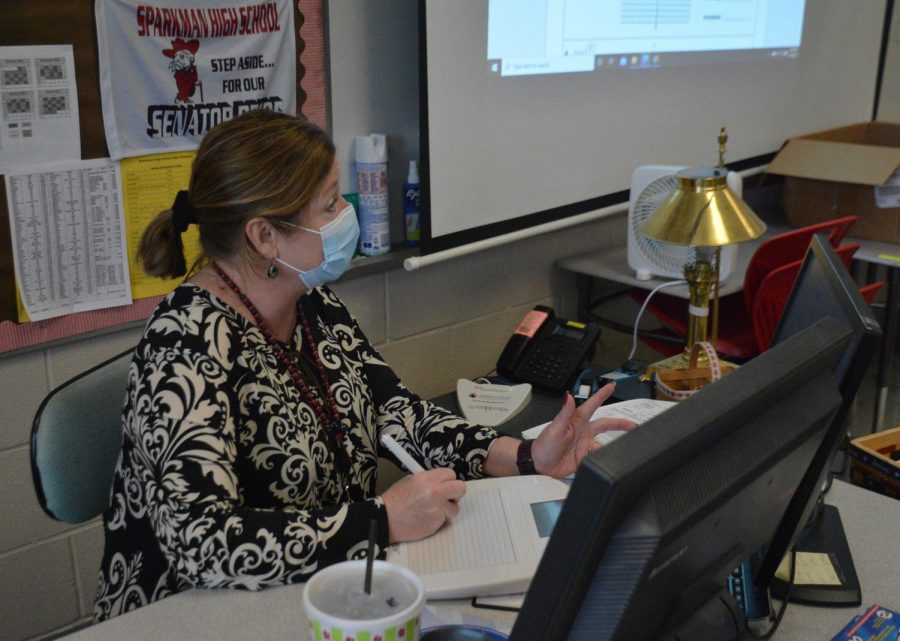 Photo Credit: Tess Warren
Math Teacher Says Goodbye to Her Home of 27 Years
As humans, we grow older everyday which comes with the new goals and aspirations. Whether it be going to college, getting your first job or in this case, retirement.
That is the case for the school's long time math teacher Rebecca Chapman. The 27 year veteran has seen her fair share of what the life of a teacher has to offer and explains the reason her desire to retire has struck.
"They say when you know you know, and I know," Chapman said. "Sparkman has been a home away from home since 1993, but it is time to move on."
All is not over for Chapman however, despite no longer being a full time employee of a school system, the math teacher does have a plan moving forward to continue educating the bright minds of the next generation.
"My plan moving forward is to continue to teach part-time at the college level," Chapman said. "I have been doing that already and plan to continue."
Even with the plan of heading out once the year wraps up, Chapman has still made the most of a year full of uncertainty to fulfill her students academic needs. Her students have recounted their experience during the most mentally draining year in school history.
"It was definitely a tough year but she was always there to help us," senior Luis Chairez said. "Even when I was falling behind she made sure to help everybody as much as she could."
There are a lot of things you can and will see as a teacher and that has certainly been the case over the last 27 years. Chapman has shared years of her life with thousands of students but has always been consistent with her favorite moment of teaching, watching her students grow.
"My favorite memory has been watching my students come to Sparkman and graduate," Chapman said. "Watching them be contributing parts of the Senator family has been amazing."