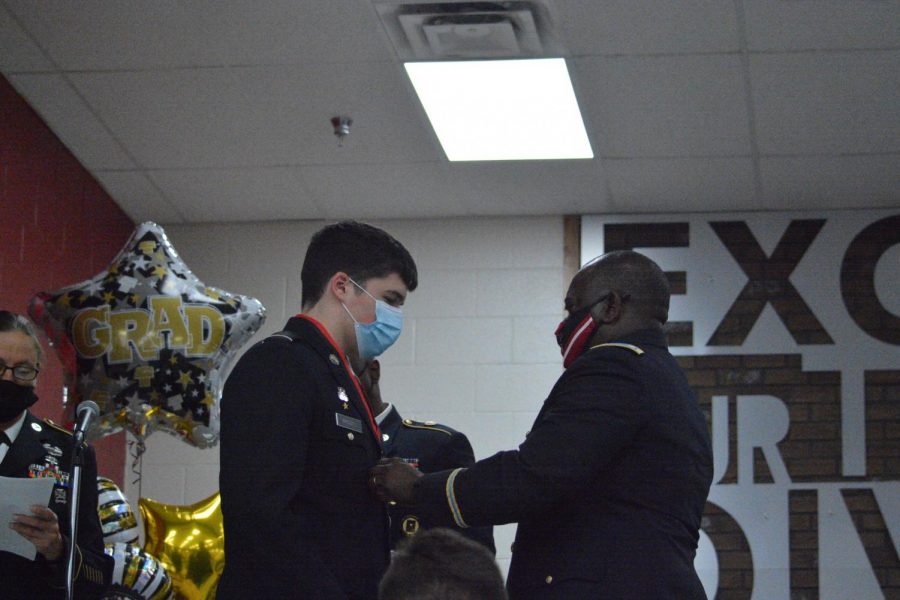 Photo Credit: Kate Irving
Seniors Head for U.S. Military Academies
Seniors Collin Romiza and Logan Barley have dedicated four years of hard work to JROTC. At last, they got to see the day they were accepted into their desired military academies.
On June 24, Romiza will be reporting for Basic Cadet Training at the United States Air Force Academy. Barley will be pursuing the Army and attending the United States Military Academy at West Point.
"Coming into high school, I had no idea what I wanted to do to keep myself busy, so my parents suggested that I try JROTC out," Barley said. "I loved the class, environment and getting to learn and improve my character everyday. It ultimately led me into wanting to become an Army officer."
Romiza decided JROTC would be the best elective to set him up for his goal of becoming a military aviator.
"I decided to join JROTC because I saw many opportunities that were significant to the program," Romiza said. "After four years of hard work, dedication and various commitments, I am very proud to say that this program has prepared me for a future of service in the military."
The JROTC program prepares students for a future in the military. Even if they do not plan to serve in the military, they learn essential skills they can use in everyday life.
"JROTC has prepared me in many ways for the military academy," Barley said. "Over the four years, I have learned a lot about military knowledge and having to keep a structured and disciplined schedule applies to this. JROTC has also physically prepared me for the USMA by being on the Raider Team and having to do weekly PT."
Romiza will carry out what he feels is his personal responsibility to serve the U.S. by becoming a U.S. Air Force pilot.
"I want to join the Air Force because of my aspirations to serve as a pilot, and also my personal obligation to the United States," Romiza said. "Our country is a foundation for all people to be successful, regardless of skin color, sex, religion or creed. I want to defend these liberties and the rights expressed in our Constitution from all threats–foreign and domestic."
Barley is following in his family's footsteps by joining the Army. His parents have inspired him and are the ones who encouraged him to apply for the U.S. Military Academy.
"I want to pursue the Army because most of my family has joined the Army and being a part of the Army felt right to me," Barley said. "My friends and family were the ones that pushed me to apply for West Point. When they found out I got my appointment, they were all stocked. It felt amazing that my friends and family supported me and were beyond proud of me. To this day I am still getting compliments and congratulations. Both of my parents know a lot of people and work for the Arsenal, so it's amazing having successful people including my parents congratulating me."
Getting accepted into these military academies is quite an accomplishment, especially for the Air Force Academy because it is competitive.
"My friends and family are very supportive of my decision to go into the military. My parents were especially hard on me through my high school years because of my interest in the Air Force Academy," Romiza said. "The academy is a very competitive military school that only accepts 1,200 candidates from the 12,000 that apply. These candidates must meet various requirements, receive a nomination from a government source and must be in good health. Without the stress from my parents, I would not be sitting here with an appointment to the academy."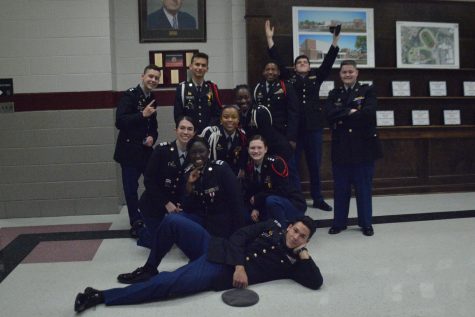 Romiza is ready to be challenged so that he may improve in training and serve his country to the best of his abilities.
"I hope that the Air Force Academy will provide the training, education, and maturity I need to not only serve in the Air Force, but also in the civilian sector," Romiza said. "Knowing the many hardships I will endure both academically and physically, I am more than confident that the Air Force Academy will be the firm foundation that I will build my life off of."
Barley already has a plan set in place to get a degree debt free and then serve in the Army. He is excited to learn more and explore what his future holds.
"I plan to get a degree in cyber security or business management at the USMA and once I graduate I'll become a 2nd leutininent in the Army," Barley said. "My education will also be fully paid for so I will have no student debt and have a nice job in the Army waiting for me when I graduate. I know I will learn a lot of things at the USMA and it will be great when I can apply that to my everyday life. I'm really looking forward to what the future holds for me and as always–Go Army!"