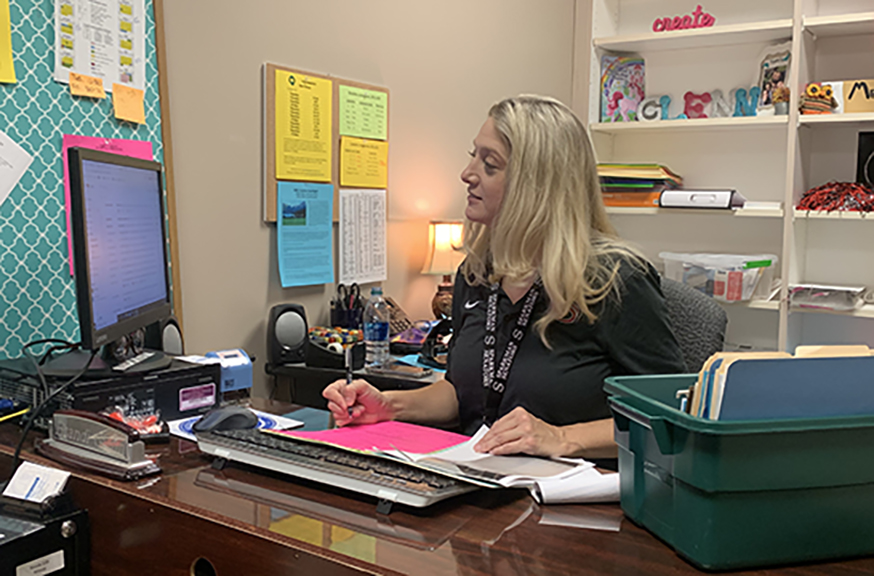 New Co-Op Teacher Brings Real-World Experience
 As Brandi Glenn was promoted to vice president of her local financial institution, she did not see herself becoming a teacher. Little did she know, years later, she would accept a teaching job at Sparkman High School.
Glenn was born in Alabama, but spent many years of her life far from the south. She even lived overseas.
"Originally born in Decatur, Alabama, I grew up as an Air Force brat, an endearing term for a kid in a military family, living in several states including Texas, Louisiana, Alabama and even Florida, as well as Germany and Spain for my first 18 years," Glenn said.
After Glenn graduated high school, she decided to attend college at Auburn University. She ended up spending six years there.
 "I am a proud graduate of Auburn University with a Master's Degree in Career & Technical Education," Glenn said. "War Eagle."
Spending the first part of her career at a bank, leaving the business world was a tough decision for Glenn. However, she knew it was time for a change.
 "There was a piece missing in my career puzzle that I couldn't find in the business world," Glenn said.  "At the time my husband had just started his teaching career and I found satisfaction in helping to design curriculum activities, especially technology-based ones. After volunteering as a guest speaker for a few high school classes I decided to take the plunge and return to school to pursue a second degree focusing on education for middle and high school students."
To Glenn, starting at a new school is exciting. She feels prepared to begin teaching.
"The campus is sprawling and has so much to offer," Glenn said. "Even though students are not on campus yet, I can feel that there is so much pride and energy from those I have met. I can tell it means something BIG to be a Senator."
Being in charge of the school's Co-Op program requires unique responsibilities. It is not a "normal" teaching job.
 "As the coordinator for the Work-Based Learning program, (historically referred to as Co-Op) I am a partner to student participants to help coordinate, supervise, and develop their skills for the work-force and manage all the requirements needed to 'earn as you learn'," Glenn said. "Student participants replace an afternoon elective with this program and go to work in the community."
 Outside of school, Glenn has a family she loves deeply. She also has four pets that she cares for.
 "I am married to a teacher of AP Biology and the proud mom of two sons, one in graduate school studying Psychology and one in his junior year at HGHS," Glenn said.  "We share our home with an 18-year old cat, two snakes and a long-haired rabbit we rescued from a parking lot last year."
When Glenn's career is over, a new chapter in her life will begin. She has no plans to slow down in her future.
 "In 15 years, I'll still be starting new adventures," Glenn said. "I want to study something I've always wanted to know about, work hard, and spend time laughing with family and friends, preferably with a view of the ocean out my window."