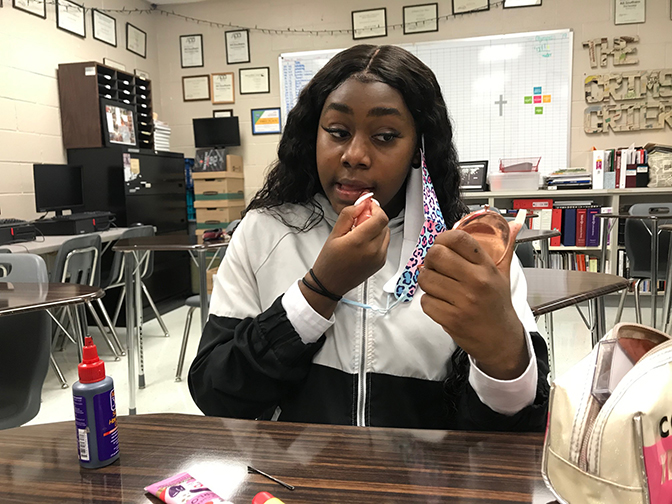 Senior Starts Lip Gloss Company During Quarantine
Over the quarantine people have found themselves with a lot of free time. Senior Cherish Hollie took this a little farther than most and rose above the pandemic to create her own lip gloss company.
After earning money from babysitting, Hollie took most of this money and invested it into a new company-Cherry Pop's Lips. Cherry Pop's Lips is a lip gloss company that specializes in lip gloss bundles. 
"The reason I started the company is because I wanted young girls to be able to start using makeup products," Hollie said. " I chose lip gloss because it was quick and easy."
Hollie makes all of her products from scratch. She starts by planning out the look of the gloss in a notebook. Once she has picked out her colors, flavors and decorative flake decals she mixes them together to achieve her desired gloss. Hollie also accepts custom orders. Her best seller is the mini butterfly. It is a light pink gloss that is scented with lemon and has black and white butterflies mixed.
"If I have a custom order I send the person a few swatches of the scents that I have and allow them to pick the details of their gloss," Hollie said. "I released a small batch in small pens and they quickly sold out. I think that it did well because people liked the scent." 
Hollie uses social media to promote her products such as the mini butterfly, a best seller. To promote her business she relies heavily on social media and reviews from people who have used her products how she makes them She also has brand ambassadors that promote her products for her.
 "I use social media to reach out to young teenage girls aged 10-14 but some even age 8," Holly said. "Knowing that little girls are at an age where they want to start using makeup products I pay Instagram to promote my products on their feeds in hopes that they will be interested in the products that I have."