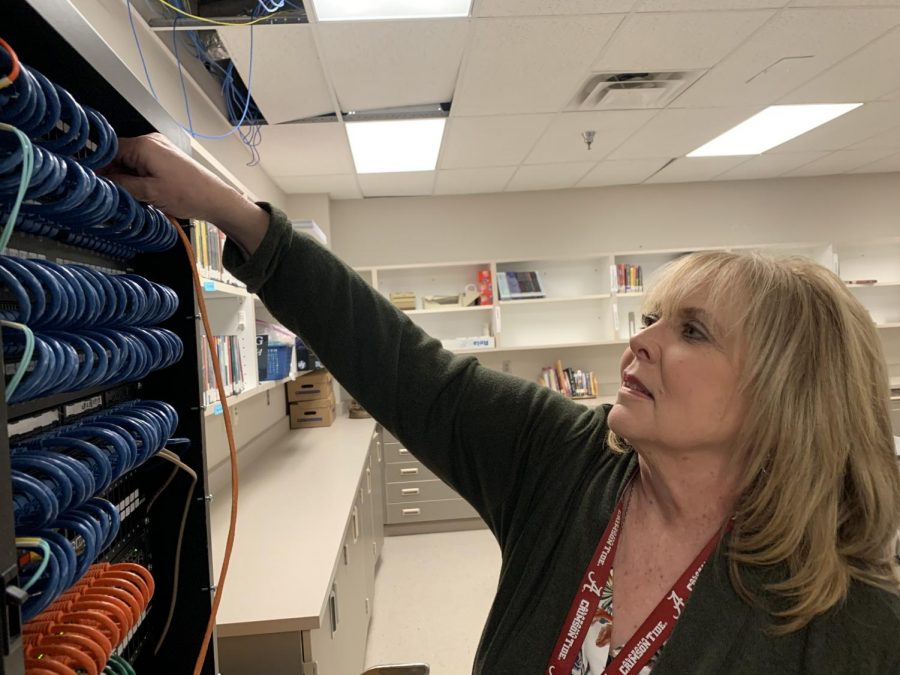 Photo Credit: Photo By Madison Duboise
Technology Specialist Plays Critical Role In School
Glaring over her glasses and shushing students as they browse through the fiction section is not the only thing current Library Media Technology Specialist Pamela Hooton does.
Coming to the school in 2011 after moving to the area from Cullman, Alabama, specifically, Vinemont Elementary School where she had been a librarian for 15 years, Hooton saw a big change in technology throughout the education system. Tests and assignments more often became digital and began being incorporated into everyday use in classrooms.
"If we didn't have the technology I would have a very quiet job, like everyone else technology runs my life," Hooton said.
Hooton's first real encounter with technology came when she went back to school to begin working on her bachelor's degree in social science. She quickly realized there were several tech items out there that could make her life easier. In 1991 she purchased a Brother WP-80 word processing machine that she could input my term papers and research papers.
"I didn't have a typewriter at home and, having two children, it was difficult to stay at school to complete these assignments so I looked around and found a machine that was a little larger than the present-day desktop but it had a 4X6 window that I could view what I was inputting," Hooton said. "I could also edit the paper before printing from the same machine.  A couple of years later I purchased a "modern-day" desktop that I used for most of my college career. I tried to learn everything I could about the functions of this computer and quickly realized how this would change the world of business and education. "
When Hooton began teaching the only technology they had at the school she was teaching at was a single MS-DOS computer in the library. Hooton, however, saw the impact of the small device that changed the game for data and information. She saw what it did for the library and began to realize that more things were to come with technology in education. 
"All these items open the entire world to teachers and students in our small classrooms that otherwise would not have the resources to gather the information needed," Hooton said. "Technology is what drives our everyday life. From the moment we get up until we go to bed at night."
Hooton currently holds a bachelor's degree in social science from Athens State University and a master's degree in library media technology from Jacksonville State University, as well as being a qualified teacher. Hooton experienced many technological effects across the board in the advancement of technology throughout the classroom while being both a student and a teacher. 
"When I graduated high school and I began looking toward a life-long career, computers and most tech were room-sized behemoths and practically no one knew they existed," Hooton said. "My goal was to become the next F. Lee Bailey, a very famous lawyer in the '70s and '80s."
With a career based solely around technology, Hooton has witnessed first-hand many of the innovative products come to the market and change the game for many aspects of life. 
"Technology has become the driving force for every aspect of the global society.  From healthcare, employment, nutrition, transportation, housing, environment to entertainment, education, sports, farming, travel, telecommunications, defense, and finances just to name a few areas impacted," Hooton said. "Technology has progressed at an exponential rate over the last 100 years.  My late parents lived to see horses and buggies all the way to computers controlling our everyday life that will fit in the palm of our hands."
Hooton's favorite thing about her job is the fact that she is able to help faculty, staff and students in their everyday life. When she can solve a problem and help everyone get back on track that is what she loves the most about her job. 
"I believe my impact is felt mostly by the faculty.  If they have planned on using technology in a lesson plan and the tech does not function then all their planning is useless.  If I can help a teacher teach that makes my day," Hooton said. "My mission in life is to help when and where I can and not just at school.  Also, when students can't access their Google, Canvas, and iNow accounts that is a problem, I can help with. For several students, this barrier is very stressful and I help as much as I can.  My goal when I began teaching 25 years ago was to help as many students be as successful as possible and through helping with their technology issues I feel I am doing just that."