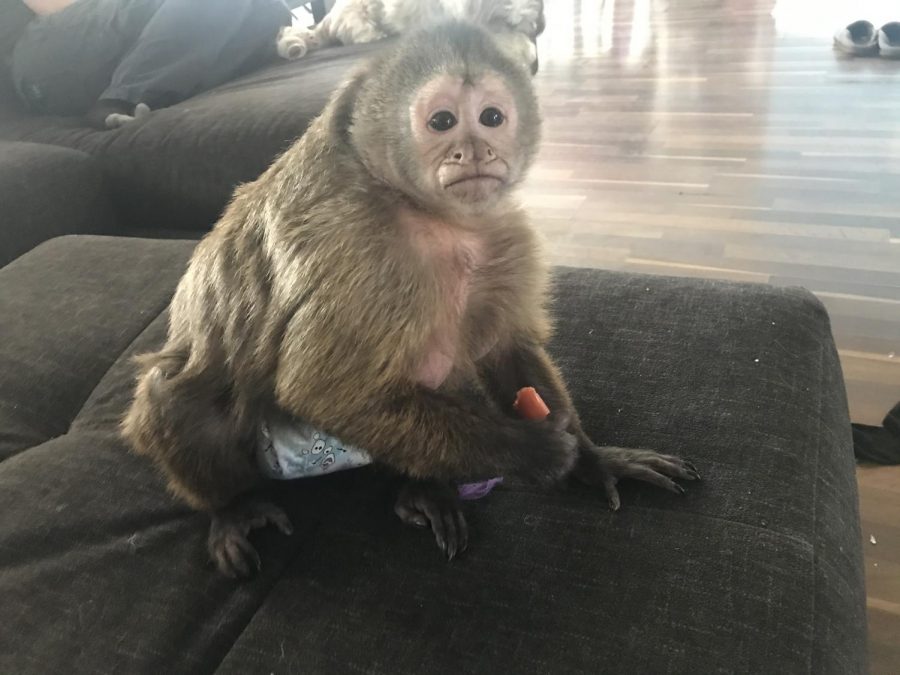 Photo Courtesy of Jayde White
Capuchin Monkey Finds Home With Sophomore
While some families take in stray puppies and kittens, others take in more exotic animals.
When she was 14-years-old, sophomore Jayde White took in Evee, a Capuchin monkey and has been caring for and forming a close relationship with her since. 
"She has been to multiple families, but she wasn't in the best shape until we got her." White said. "Despite that, it was one of the best things ever." 
White's family was researching these monkeys before taking in the animal, and eventually got the opportunity to foster Evee. After they formed a bond with her, they decided to make her a part of the family.
"After a couple of days of caring for her we noticed she gravitated towards women, and was scared of men, because a man was abusive to her, and other animals. " White said. 
When White's family first started taking care of Evee that they now consider a part of their family, they thought it was simply scared of its new environment, but soon realized it was something more, needing a more time-consuming fix.
"Evee would never ever eat in front of us and would only pick around when no one was looking," White said. "After watching her, we noticed her strange behaviors while eating and found out the length of her abuse after further evaluation."
While caring for her, White's family found that she was physically abused and from that abuse she had not only trauma, but broken teeth and was underweight at one point. 
"Now that we know her past life, we'll give her the best life possible," White said. "She'll never have to worry about being hurt again."