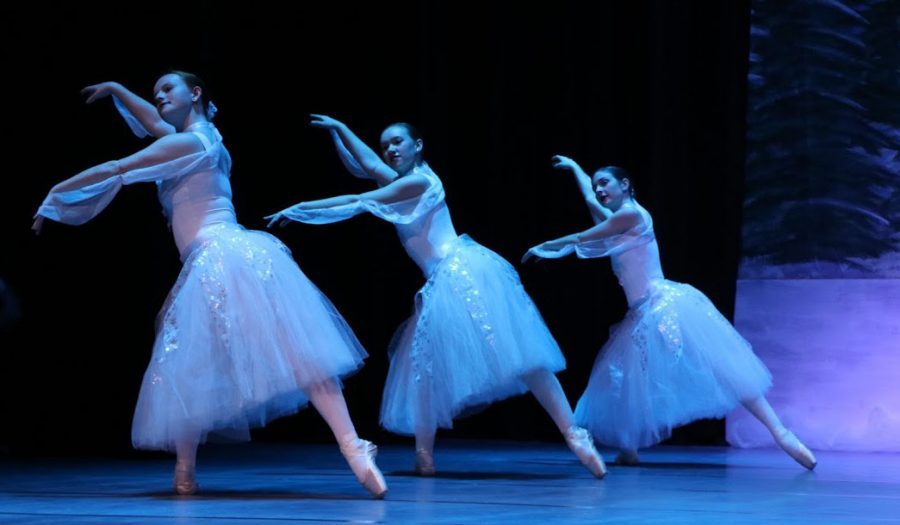 Photo courtesy of Sarah Helms
Sophomore Utilizes Ballet Skills in Local Production of The Nutcracker
The Nutcracker is a famous ballet that originated in Germany. But now, it is performed everywhere and enjoyed by many. One was just recently showed by The Dance Company in which sophomore Sarah Helms was able to be a part of.
Helms has been doing ballet for 11 years and has performed The Nutcracker four times. She has also played different parts in all those shows.
"This year, I was one of the Spanish leads, part of the Snowflake Corps and a flower princess," Helms said.
There is much time and effort put into shows from her teachers and fellow dancers. It takes months to perfect the setting, costumes and routines.
"We had auditions in early June and have been rehearsing since then," Helms said. "We practiced every Tuesday, Friday and Saturday. We had multiple dress rehearsals and spent lots of time preparing sets and backdrops."
As Helms explains, it takes a lot of effort to get every last thing right. The dancers work tirelessly to lock every step and skip down where it should be in time for opening weekend.
"We start cleaning up routines as soon as they are choreographed," Helms said. The routines are practiced until they are good enough for the final performance months from that point."
Ballet takes a lot of poise and practice to get the hang of. It can be very tiring and take a physical toll on those a part of it. Every part of the performance takes a lot of resources and time to get right in time for the show.
"It is very challenging to put on a production of that capacity. There are many working parts that have to be prepared and run properly," Helms said. "Some costumes are not even finished until an hour before showtime and the cast constantly deals with sore muscles and feet from rehearsal. Being on point for an entire weekend can bring on a lot of soreness and potential injuries."
Ballet as a whole has been a big part of Helm's life as the company provided her with many opportunities and some of her closest friends today.
"Ballet has made a huge impact on my life. I have been brought to my closest friends and gave me an outlet to express myself," Helms said. " Though it is physically demanding, the rush of performing is a feeling unlike any other."