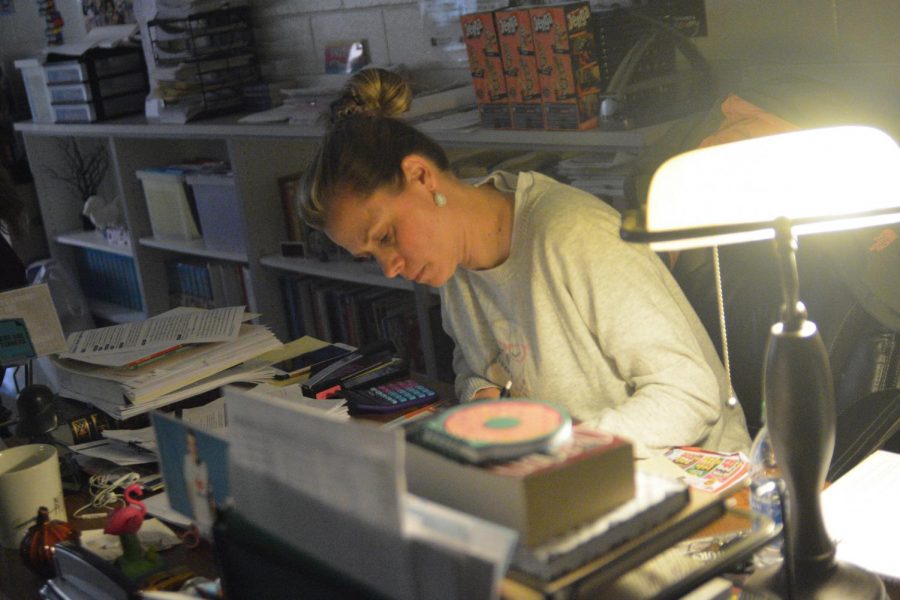 Crys Hodgens' First Year Back
English teacher Crys Hodgens always wanted to be a librarian, but after two years heading up the school's media center, she realized that her true calling was in the classroom. 
Before getting her degree in library science, Hodgens taught English for 17 years. It was not that she did not love teaching, but her decision to use her degree was based on the stress of taking home her students' trauma. From breakups to home issues Hodgens found herself still battling these issues after hours.  
"I was just so burned out and looking for something a little different and a little fresh. Then, being up in the library, it just gave me such a different perspective as it made me realize all the roles people play in the school," said Hodgens.
Hodgens intended to love her position as a librarian. She credits her students for her interest in becoming a librarian. During career week, one of her students presented the idea of being the librarian because of her love for books. After speaking to Ms. Madison, S9 librarian,  Hodgens went to school to replace Miss Pressley.
For Hodgens, the transition from teacher to librarian was hard. She gave it two years but knew that teaching made her truly happy and decided to return to teaching.
"I feel like when I got back into the classroom I was a little rusty. I am just now feeling like I'm starting to get back my groove," Hodgens said.  
In the classroom, teachers are held to standards given to them by the state department of education. In the library, such standards do not exist.
"The nature of how you work with kids in the library is different. Everybody is your kid. I'm not held to a standard of grades, testing and things like that," Hodgens said.
Hodgens feels like she brought more to the library as a former teacher than what she would have as a former librarian. She said while sitting in meetings, she continued to look at things as a teacher at a smaller scale. That was when Hodgens noticed that the mind of a librarian was different.
"I know how great of a teacher Crys is, but she was also a great librarian," teacher Erin Coggins said. "I think she had more students reading and checking out books than we had before. She made our library better. I am happy to see her back in the classroom, though. No matter her position, she is an asset to our students."
There were many perks for Hodgens who had been in the building for several years before becoming a librarian.
"You know how to work with teens, the building and the teachers. Your collection should reflect your population of your kids and the current curriculum. Being in the building so long helped me know what we needed versus what we did have," Hodgens said.
"Being up in the library gave me such a different perspective, it made me appreciate what I was doing with my kids, what I am doing with my students," Hodgens said.
Hodgens knew that her place was in the classroom instinctively because working in the classroom gave her joy.
"My retirement plan is to own a book store one day, but not until I feel like I'm completely done," said Hodgens.