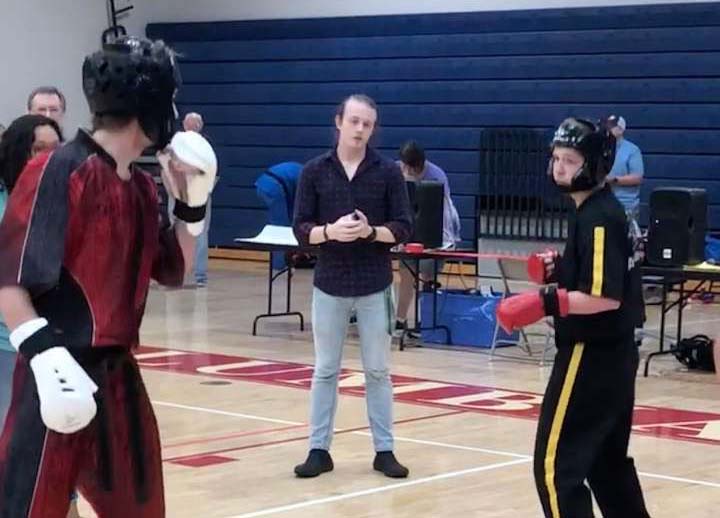 Courtesy of Austin Jennings
Junior's Passion for Karate Keeps Him Kicking
A tradition is something that is carried throughout the years, cherished by the ones who started it and the ones who learned about it.
It adds quality to the tradition when one is great at what they cherish. One specific junior views his tradition as his way of life and is accomplished at it.
"I would say that I think about it 90 percent of the time I'm not thinking about something else," Austin Jennings said. "Even if I need to be working on something else and focused and something completely different, I am still thinking about it."
Nearly within reach of greatness, Jennings will test for what he has longed for as soon as he learned his grandpa went through the same process he is going through now. The all-important black belt, the symbol of fighting prowess, it shows one is the best of the best and can handle themselves in a head-to-head battle.
"I've longed for this moment my entire career in martial arts," Jennings said. "Ever since I learned about my grandpa taking martial arts and getting a third-degree black belt, I wanted to do the same thing."
Jennings looks up to his grandfather and uses his accomplishments as a driving force in the way he practices and
Jennings is no ordinary martial artist though, as he has won the state competition not once but twice. Plus, he won this year and did not even attend the competition. He has achieved greatness like this before as he has been going to competitions since he was a mere yellow belt and has never placed below bronze.
"It's kinda odd that I won the biggest competition in the state of Alabama and didn't even go," Jennings said. "But that's just the way it works. You go to competitions and you score points by placing on the podium."