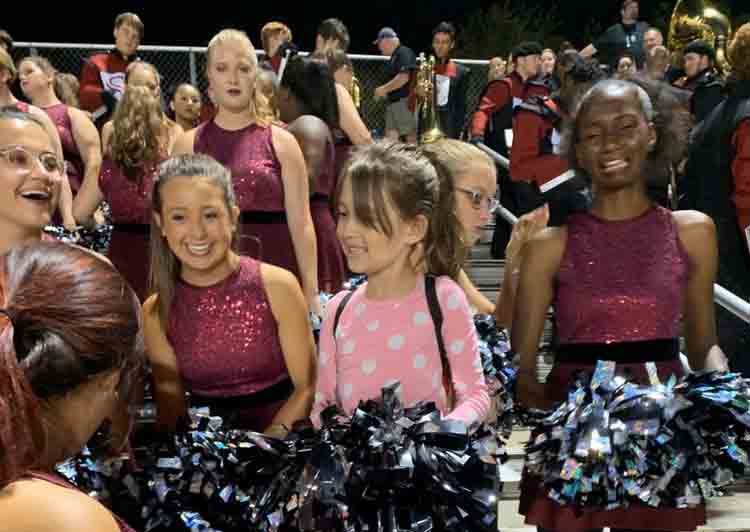 Seven-Year-Old Strives to be Color Guard's Biggest Fan
The atmosphere of a high school football game is one that cannot be beaten. This is why High school students always have a student section, alumni come back to games, and little kids want to come see their heroes– Little kids like seven year old Arabella Zapp whose heroes are the color guard.
Zapp started coming to Sparkman's football games in the 2019 season, and has not missed a home game yet. She loves to do stand cheers with the guard, to see the cheerleaders flip and, sometimes, she watches the football players. Her mother bought her poms that match the color guard and they gave her a flag to practice at home with. She hopes to be a "color guard girl" when she gets older.
"I like the cheer team because they do a lot of cool moves and flips and stuff," Zapp said "I like the color guard girls because they wear purple shiny dresses and do really fun dances."
Zapp's family can only come to home games, and after learning about away games and hearing she could not attend them, she was brokenhearted. Zapp loves coming to the football games to see all of her color guard friends and looks forward to Friday nights. At her first game, she took a picture with the color guard, and ever since then she loves to look at that picture.
"The first time Arabella got to spend some time with them she was ecstatic," her mother Andria Zapp said "She shared with pretty much everyone we passed that she got to sit with the color guard girls and made a bunch of new friends."
The color guard loves Zapp as much as she loves them. She supports and cheers them on when they perform. They love having a little cheerleader and being someone's inspiration.
"We taught her a new stand cheer and she couldn't stop smiling for the rest of the game," Georgia Peto said.