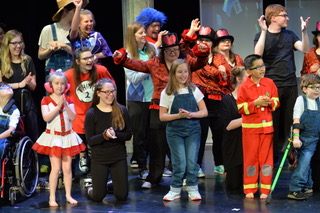 Amy Stutchlik
Students Use Their Talents to Help Others
Disabilities should never prevent someone from doing what they love. The local performing arts center, Merrimack Hall, ensures that all students in the area have a chance to dance. 
Merrimack's mission is to provide visual and performing arts education and cultural activities to children and adults with special needs. These activities enrich the social and creative needs of all who are involved. 
Senior Kaitie Horton, also a dancer at Soles dance studio, volunteers every Monday for an hour. She and a partner are responsible for a class. This is her fourth year as a volunteer. 
"Everyone is so nice and accepting there and love to see us come help," Horton said. "I just want them to be happy and to get the chance to do something everyone else does." 
Horton is partnered with a special needs adult or student to help in their assigned dance class. Her current partner is Anniston, an elementary student. The two are taking a Happy Sprouts class, consisting of a variety of dances.
"Anniston's favorite time is free time," Horton said. "It's the last few minutes of class. She enjoys playing with the yoga balls and Hula hoops." 
Horton's experience at Merrimack has led her to the career choice of occupational therapy. 
"This career will allow me to help as many special needs people as I possibly can," Horton said. 
Like Horton, senior China Green uses her dance skills to teach classes at Merrimack. Although she has performed at the facility, she is in her first year volunteering. 
This is one of the many positive things Kaitie had to say about her experience at Merrimack. This shows how the volunteers and dancers are having a big impact on the kids outlook on positivity in their lives.
"When we go to Merrimack we want to see them smile and learn new things." Green said. [p"While working there it allows everyone to have the opportunity to help others and learn about the people and their disabilities." 
The arts center is always accepting volunteers for a variety of classes which include weightlifting, yoga, dance, art and performance. Horton says those who are interested in volunteering need to apply on the center's website. 
"It's a really enjoyable experience because you get to see happiness spread around," Horton said. "When I'm feeling down, all I have to do is think back on one of the classes or partners and I automatically smile."