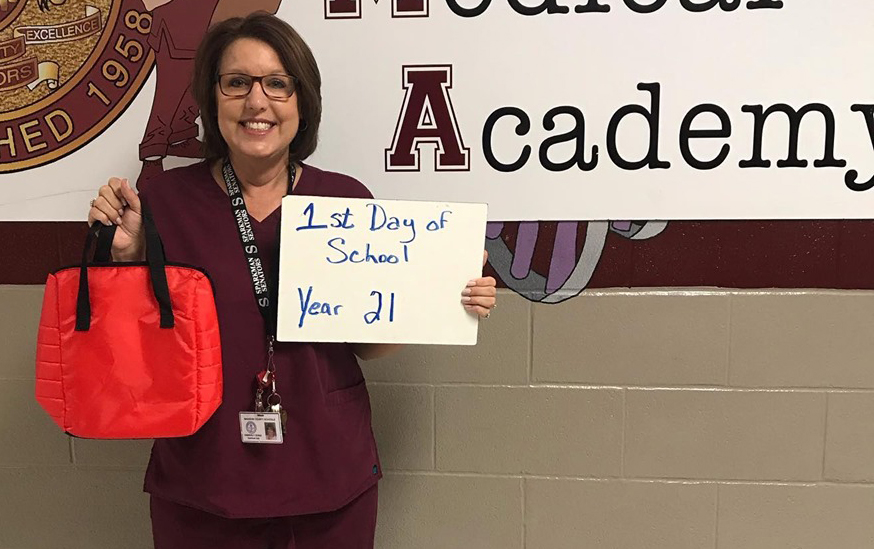 Angela Holland
Medical Academy Teacher Heads Back to School to Further Career
Thirty years have passed since Medical Academy teacher Kimberly Goins has been to school. Now, she has decided to take a trip back to the past and start all over again.
While it seems like a slow route to her ultimate goal, Goins knows this is what she has always wanted to do.
"That was always my goal from high school to be a nurse practitioner. Life happened, so I got my bachelors and that's as far as I got. Now that my kids are out being productive citizens, i just wanted to go back," Goins said.
Goins will be attending the University of South Alabama for their top-rated Nursing program to get her degree. Goins previously got her bachelor's degree in science and nursing at the University of Alabama in Huntsville. She is likely to work in medicine actively after this achieving her ultimate goal of getting her master's degree.
"It's the 64,000 dollar question. I'll probably still teach a little bit after I get my nurse practitioner degree," Goins said. "This is something that I can keep doing if I decided not to teach anymore, or if i decided i want to teach at a higher level."
If Goins was going to school full time, it would take her 21 months to get her degree. However, since she is still teaching full time it could take her until 2022 to graduate. Goins has a passion for teaching unlike any other.
"I think for teaching its helping your age group when y'all get that light bulb moment," Goins said. "You're in this class for three years and in the internship portion and when it clicks, when something clicks and it fits- you realize 'this is what i want to do'- that's big."
Before she started teaching, for 10 years Goins worked at Huntsville Hospital as a nurse in the neonatal and intensive care and at a large pediatric practice. Goins has had this passion her entire life, even since she was a child, and is willing to put in all the work it takes to reach her goal.
"None of my family is in healthcare, but I always knew I wanted to be a nurse," Goins said. "I never strayed from that. I've known that since I was very little and I just never changed. My grandmother was a teacher, and I think that's what led me to this part. But my dad was a fireman, and I don't know if it's that whole public service type, civil service type thing that led me to nursing. I just know I wanted to be a pediatric nurse practitioner. That's it, that's what I was gonna do."
Her inspiration for being a healthcare worker aside, Goins has significant motivation from experience on the job to get this degree.
" It's just the actual part of helping someone to get better, to make a difference in their life when they're in a bad spot," Goins said. When they're hurting, when they're not their best, it's not their best day and you can do something to make it at least a little bit better. And it can be anything from actually rendering care to explaining something to them in terms they understand."