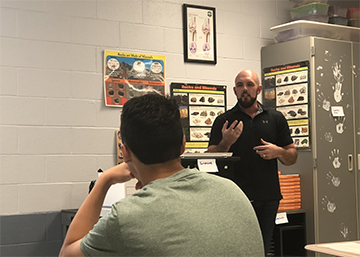 New Anatomy Teacher Captures His Students' Attention Early In Year
With several new teachers joining the staff this school year, Randy Potter stepped in as the new anatomy teacher and has already captured his students' attention.
Potter discovered his love of anatomy in high school after taking a class from his football coach.
"I played sports year around and that's all I was interested in," Potter said. "I got to my senior year and realized I didn't know what I was interested in so I took an anatomy class. The teacher was the best teacher that I have ever had. He really helped me funnel my interests."
He brings aspects and opinions from the classes he had in the past as well as personal stories, such as injuries, that help students visualize the parts of the body. His experience in his anatomy classes allowed him to see how students need to be presented with material.
"You actually have to have the bones in front of you and have to participate in dissections.There is a lot of information so the class is very hands on," Potter said.
Potter did not lose his love of sports after high school. He still enjoys watching a lot of school sports, especially football.
"Anything Texas A and M sports related is my favorite for sure. My weekends, during the football season, are just watching football and playing fantasy football and stuff like that," Potter said.
He considers his wife his best friend in the area. They do everything together. She attended the University of Alabama and met Potter when she returned to San Antonio to complete her Master's degree. They've known each other for five years and have four pets.
"Sammy, Saity, Sable and Stash are our pets," Potter said. "I got Sammy when she was six months old during my sophomore year of college. My wife brought Sable to the relationship and we picked up Stash together. He is awesome because is just like a little dog. I got my wife Saity from the shelter two years ago so she's still a puppy."
Potter enjoyed living in Texas but moved to Huntsville for job opportunities. He specifically moved because his wife was offered a job in the area. He started out teaching at New Hope High in Madison County System.
"I can teach anywhere but New Hope is a small school," Potter said. "The original school I went to and the first school I taught at were both a lot like Sparkman so I feel more comfortable here than I did at New Hope."
The only thing Potter dislikes about Huntsville is the food. He misses the tastes of home. All he wants to know is "Where is the good Mexican food?"