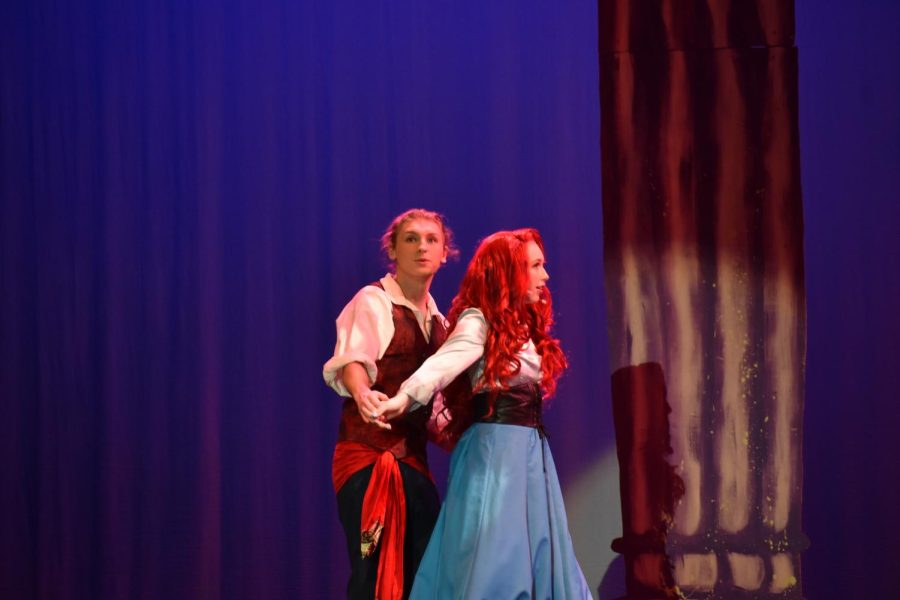 Theater Students Score Big With Spring Performance
This year's musical, The Little Mermaid, did not disappoint.
The Little Mermaid has so many bright and polarizing/differing characters for the actors and actresses to play with, experiment with and stretch themselves. The leads, side, and ensemble cast members were strong in their voices, movements and portrayals. Their costumes and voices were all unique and perfectly depicted their Disney counterparts' spunky, goofy, sassy and elegant personalities.
Senior Kat Henderson nailed it as the lead. Thankfully Ariel's loss of voice in the plot did not restrict Henderson from sharing her voice. Throughout the story, Henderson sang Ariel's inner thoughts as she struggled to express herself fully.
Junior Isabelle Berube and senior Hannah Mae Burnette's solos were just as incredible and emotional. They truly encompassed their characters to the fullest. Along with the wonderful performances by junior MJ Turner as Scuttle, junior Aiden Chrisman as Chef Louis and Hunter Alexander as Prince Eric. Along with their talented voices and acting, they brought some great laughs through minute mannerisms and going over the top with their character.
Along with everyone's stunning performances, I absolutely loved the costumes. Personally, my favorite was Flounder's, played by senior Jen Rivera-Santiago. I just adored his bright yellow vest and bowl cap paired with his sparkly, bright blue shoes and fins.
Coming close second is Sebastian's bold red, well, everything — frilly shirt, skirt, tights, shoes, and of course claws. Berube truly encompassed Sebastion in her perfectly practiced mannerisms and stunning accent. Carrying on from her hilarious and perfectly played Voldemort from this past year's Puffs, she continues to bring any character to life with quirky voices and in-character improv.
All of the costumes and set pieces truly got to shine during the highly anticipated musical numbers "Under the Sea" and "Kiss the Girl." By the first note, the crowd already erupted with excited cheers. The various sea creatures were portrayed with big colorful costumes and accent pieces. I think my favorite in the bunch was the jellyfish and stingray.
The big musical numbers showcased the amazing talents of the ensemble and let Berube's voice shine as she took the lead. Each number also had a beautiful performance by the featured dancers. I loved the tap dance number led by Scuttle and her dance entourage.
One of the hardest things about doing Disney classics is the expectations already set in place by the audience. The director, cast and crew performed stunningly and blew all expectations out of the water.
Sparkman's iteration of the Little Mermaid has it all. It is truly a one-of-a-kind show executed by a one-of-a-kind talented cast and crew. Trust me when I say you don't want to miss it.
You still have a chance to see the amazing sets and costumes, witness the stunning acting and dancing, and hear the beautiful, powerful singing this coming weekend, March 31-April 2. Hurry and get your tickets at SparkmanTheatre.com. There is even a buy one get one free sale for the April 1 at 11 a.m. performance.