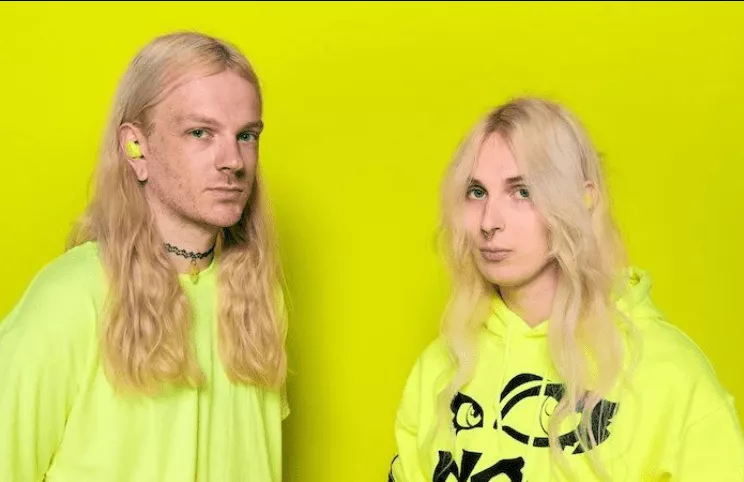 Photo Credit: Courtesy of 100 Gecs and The Garnette Report
10,000 gecs: A Nostalgia-Driven Trip Into The Absurd
From the moment curious audiences begin listening to the sophomore album by hyperpop outfit 100 gecs, they are greeted by a wide ranging mix of noises, blurring genres and even managing to seemingly create new ones. Listeners are brought back to various musical movements of the 2000's and the '90s through various songs on the project, whether they be the wave of ska, or rap metal, the duo consistently calls back to various stylings of the new millennium. 
From moment one of the record, listeners are brought back to the era, through Laura Les and Dylan Brady's use of the iconic THX sound effect that often played before movies during the '90s and 2000's. Although it does reflect musical projects of the past, that does not stop "10,000 gecs," from being consistently one of the freshest and most unique albums of the past 10 years. It combines more traditional elements of drumming and guitar riffs, with the more modern components of music that the group is known for utilizing, including bass hits, 808s and autotune. 
In numerous ways, the album could be considered a remix of the signature sound 100 gecs was previously known for, containing elements of their previous songs while also mixing in portions that the band has not touched before. A major way that this record is differentiated from their previous work is that it does not contain nearly as much autotune, allowing for the two members of the group, Laura Les and Dylan Brady, to utilize more of their natural vocals, creating an overall more comprehensible and less discordant sound throughout the project. 
The album, while not as experimental as their previous, is still extremely inventive, as shown through the widely different styles of music the album explores. One moment, listeners are assaulted by rough, fast guitar riffs on "Hollywood Baby," and on the very next song, "Frog On The Floor," audiences are greeted by perhaps the gecs most goofy composition, having lyrics that are the most meaningless on the album, with Les and Brady singing about the titular amphibian.
 Even after that, the album regresses back into harsh, powerful guitar compositions on "Doritos & Fritos." This three song run perfectly illustrates the progression of Les and Brady's musical styles throughout the record. Whether they are singing about the most useless subjects in a style reminiscent of They Might Be Giants or singing through discordant, harsh guitar riffs and drum beats, Les and Brady consistently stick the landing and yet again that no one in the music industry is quite as colorful as they are.