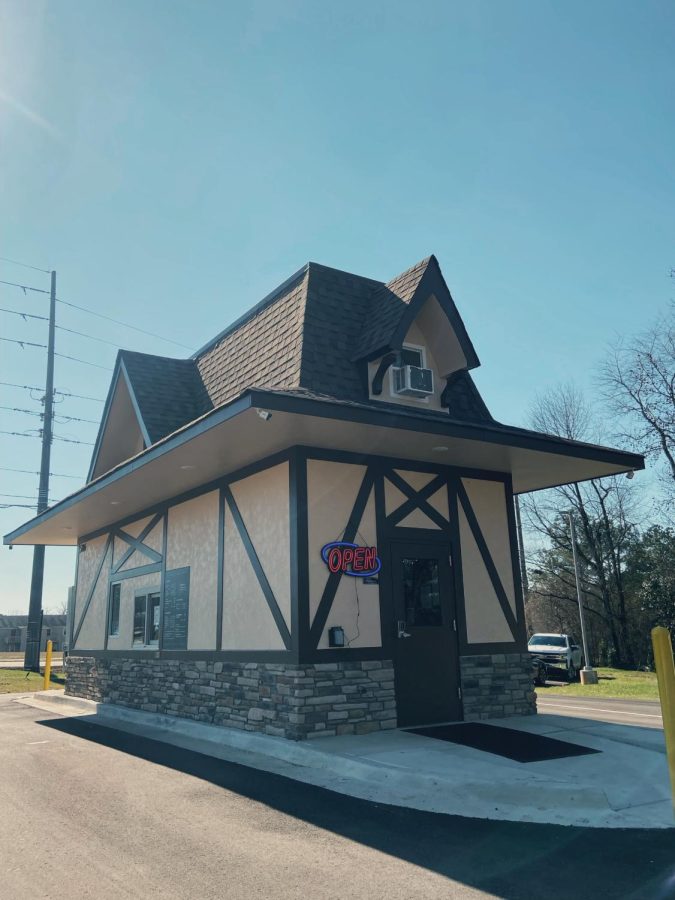 Photo Credit: Makayla Barchett
Madison Welcome New Family Owned Business
Opened Dec. 31, Madison welcomed the new family owned drive-thru coffee shop, Crème Brew Lait, for all coffee and sweet treat lovers. 
The menu offers a variety of flavorful drinks and baked goods including fruit smoothies and their original medium-dark roast espresso from the Sidma, Dara region of Ethiopia. Genesis Coffee developed a relationship with Ethiopian Coffee farmers in which they were able to transfer the valuable coffee beans to Alaska. Essential to Alaskan culture, coffee drive-thrus are located on nearly every street, offering a rare taste of priceless coffee. After consideration, the family moved to Alabama and there they established one in Madison. 
The structure's wooden design replicates a miniature farmhouse in the countryside. The environment is welcoming despite the busy traffic nearby. The drive-thru itself has two windows, one on each side to speed up the ordering process. However, the lanes are rather narrow and the location is not quite convenient for pedestrians or a great number of vehicles due to the lack of parking spaces. 
As a new customer, I felt comfortable ordering something familiar to me, so I ordered a traditional macchiato with caramel syrup. The menu is rather pricey, but is not significantly different compared to other cafes. Originally, the drink itself was $3.50 for a 12 oz small, but with the syrup for $1.00, the total came to about $5.00 after tax and $6.00 after a tip. However, I truly enjoyed the sweet flavor, and once finished, held back the desire to turn around.
The customer service was excellent as they smiled welcomingly once we pulled up to the window. Not only were they polite as they fixed my drink, but right before they handed it to me, they put a small little chocolate covered espresso bean on my lid to top it off with a more unique flavor. It was too cute and definitely represented the originality of the place well. It is open anytime between 6 a.m. and 6 p.m. Monday through Saturday. I definitely recommend this place to anyone who loves to try new coffee locations and needs a quick burst of energy for any kind of day.