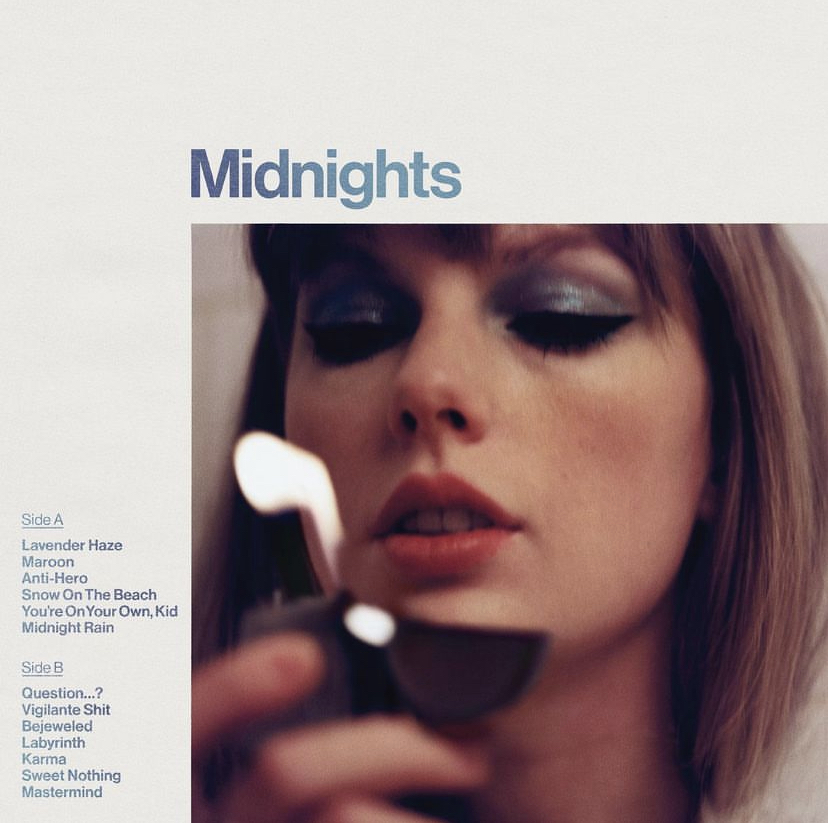 Photo Credit: Puplic Domain/Taylor Swift
Pop Artist Releases Billboard Chart Topping Album
Taylor Swift fans, and really anyone that has access to social media, have been anticipating the release of Taylor Swift's newest album "Midnights" on Oct. 21 for months. She promoted her album in a unique way by using her platform to create a series that consisted of 13 parts called "Midnights Mayhem with Me", announcing a track title off the album each episode. She used a caged bingo number generator to choose which title she would release that night.  Swift also teamed up with multiple social media platforms like Spotify, Youtube, TikTok and more to release lyrics.
The regular album features 13 songs totaling 44 minutes. It was released at midnight of course. The original 13 tracks are called "Lavender Haze," "Maroon," "Anti-Hero," "Snow on the Beach," "You're on Your Own, Kid," "Midnight Rain," "Question…?," "Vigilante ****," "Bejeweled," "Labyrinth," "Karma," "Sweet Nothing," and "Mastermind." At 3 a.m. the night "Midnights" was released Swift announced a "Midnights 3am Edition" album that included seven additional tracks. These seven tracks are called "The Great War," "Bigger Than the Whole Sky," "Paris," "High Infidelity," "Glitch," "Would've, Could've, Should've," and "Dear Reader."
Every single song from the album is in the top ten of Billboard Hot 100's chart. Ten of the songs have taken over the top ten of the chart. "Anti-Hero," "Lavender Haze," and "Maroon" take the top three spots of the chart. The album itself is number one on the Billboard 200 chart. 
Swift released four vinyls for the album, each with a different front and back cover and vinyl color. The four album's back cover fit together to create the illusion of a clock. She also released a fifth exclusive vinyl with an extra song that is only sold at Target. The vinyl editions are called "Moonstone Blue Edition," "Jade Green Edition," "Blood Moon Edition," "Mahogany Edition," and "Lavender Edition" 
Not a single song on the album is bad, but some are better than others in my opinion. My personal top five would be "Maroon," "Anti-Hero," "Question…?," "You're on your own, kid," and  "Midnight Rain" with "Maroon" being number one and the rest in no particular order. I like these songs because I can relate to them the best and that is something big I look for in the music I listen to.
Following the release of her album, Swift announced that she would be going on tour. The tour is called "The Eras Tour" and is said to be a journey through the musical eras of her career. As of now for the first leg of tour only U.S. dates and locations have been set, but international dates are soon to come. Swift will have many artists joining her on tour, these artists are Paramore, beabadoobee, Phoebe Bridgers, girl in red, MUNA, HAIM, GAYLE, Gracie Abrams, OWENN. The tour will begin in March 2023 and the final show is yet to be determined.