Photo Credit: Josh Hattaway
Students Create Their Own Businesses to Gain Profit and Share Passion
Small businesses are increasingly becoming more popular but who knew that students could start their own business while balancing high school.
Senior Josh Hattaway runs his dessert business called "Sweets by Josh." Hattaway flashes back on a memory that sparked his interest to venture down this career path.
"The reason why I started my small business is because I had always had a thing for baking when I was a little boy and one of my aunties told me I should start my own dessert business," Hattaway said.
Hattaway makes and sells a variety of desserts from banana pudding to cheesecake. A fun and convenient twist he puts on his product is using jars to store his desserts in so people can easily take them around. The process, as Hattaway explains it, includes choosing a mason jar, cleaning it well and filling them with freshly made desserts ready to go.
"I chose dessert jars because it is something you can take to family events and everyone can just grab a jar, sit down and enjoy themselves," Hattaway said. "The most sold item is my cheesecake in a jar because it is something you can eat on the go."
For most high school students, money made from jobs is put towards the future and personal spending but for senior Ash Billig, they use their profits for their business and their scout troop. Billig sells baked goods, such as chocolate chip cookies, during the holiday season to spread holiday cheer and positivity. 
"I always have had a thing for baking and people liked it so I started making things for profit," Billig said. "Almost all of my profits go towards supplies, ingredients and everything in between. Whatever is left I put towards my scout troop."
Living life as a business owner was never supposed to be easy but Billig hangs onto their big goals as obstacles get in their way.
"My business does interfere with school and my extracurriculars. It takes time to bake these items. I could be up until 12 a.m. baking," Billig said. "Looking at this holiday season, I want to try putting positive notes in deliveries, but one day, I'll own my own bakery."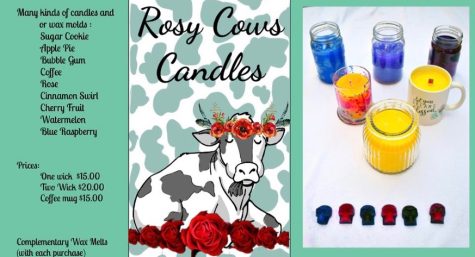 Outside of selling baked goods and desserts, senior Savannah Cordeiro started a business selling candles. Cordeiro became fond of candles at a young age and decided to share that love.
"I chose candles because I have loved candles since I was younger and I want to make people happy with my candles," Cordeiro said. "My most sold item is the multi color sugar cookie double wick. I believe it is the most popular because you can go into any room and smell fresh baked cookies."
Like most teens, Corderio saves her hard earned money to put towards her future savings but she goes out of her way to help out any family members in need.
"I chose to start my own business to make my own money. I don't like having others pay for my stuff and I want to help people that need a little extra cash," Cordeiro said. "I am using my profits to help some of my family that can't buy some things and the rest I am saving for my future."