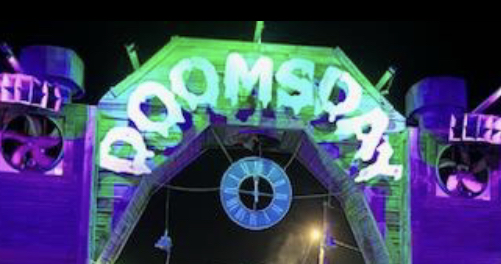 Photo Credit: Alex Bratton
Student Participates In Doomsday Haunted Woods
Around the time of Halloween, the fun begins with everything you see Halloween themed–stores stocking up with decorations and candy, and plans for big events for the big day. There is one other thing that only the brave enjoy for Halloween, haunted houses and attractions.
Multiple attractions open up for the entirety of October, allowing horror to be brought up to another level. Scares and monsters from every corner you turn, as safety really is not present while going through. There really can not be anything else that is as fun, as getting scared constantly and your heart going into overdrive. 
There is one thing, taking it up a notch and acting in a haunted attraction yourself. Last Saturday, I had the opportunity to act in the Doomsday Haunted Woods and Corn Maze. After spending a night bringing about many scares, I can say that it was a unique experience, something that I never thought that I would see myself doing, but now I have.
Doomsday takes the place as an old war town, devastated by a nuclear explosion that happened many years ago, signs of life had been reported from the town, even though it was cut off by the government. Every visitor takes part in the Doomsday Investigation Team, and making it out alive is not certain. A neat story to revolve around the attraction.
When I first arrived, I was greeted and learned about what to expect as a volunteer. I was assigned the role of a scarecrow, wandering around the corn maze. The costume I got was really neat, especially the creepy and somewhat realistic mask. The only other thing I had to wear was a shirt made of woven and loose straw. 
Once it was dark enough outside, each of the actors in costume, including me, brought out an American flag for the opening ceremony. This followed a military truck rolling in afterwards as everyone went to their positions. The fun was finally starting. I was one of the few to be within the corn maze, and I was the opening to the corn maze scares. I never knew that being a scarecrow could be so enjoyable.
I was scheduled from 7 p.m – midnight, and though it was quite a while, I can say that it was worth it. There were plenty of people who paid the extra $10 to go into the maze, and most of their reactions were gold. The only limit I had was making physical contact with people, which meant I was able to put up a chase every once in a while.
Since I was a scarecrow, I could not walk around when people could see me. What I did was stand still, with my arms outstretched and legs together, and wait for someone to cross paths with me. When they did (it was mainly groups of people), I would suddenly lunge out at them and collapse, or quickly duck into the stalks of corn. I would wait for the group to inspect me a little, and then execute the scare. After so, I would wait for them to get a bit more ahead and start following them quietly, sometimes ruffling the stalks to get their attention again.
Unfortunately, it was rare for the group to be in a good position to be chased for a while. It would have to be jumpy people, along with them all running once I started the chase. Though, one time I did run into one person thinking they would start running with everyone else. You really got to pay attention to first scare impressions I suppose. 
Based on my first impressions with volunteering as an actor, I would suggest it if you enjoy getting a good scare out of folks. Since I have only done this at Doomsday, I am unsure how it works at other attractions, but Doomsday is a fun attraction to act and go through. If you want to experience the horror yourself in either way, the attraction is open every Friday and Saturday night this month, plus the first Saturday of November. Tickets are sold from 7 p.m until 11 p.m.