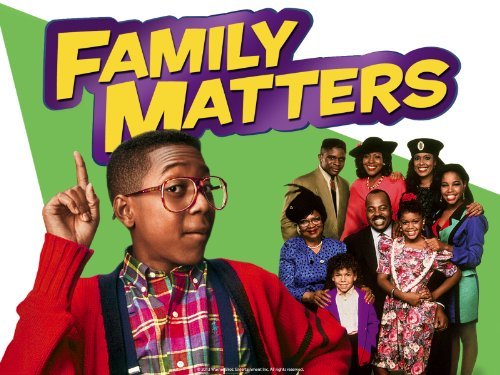 Photo Credit: Free Domain Image
Family Matters Brings Families Together Through Comedy
Starring Jaleel White, Kellie Shanygne Williams, Michelle Thomas, Reginald VelJohnson, Darius McCrary and Shawn Harrison, "Family Matters" is all about family, friendship, dating and teenage life in the '90s. This comedy sitcom was a hit from 1989 to 1998 and is still impacting families today.
In Chicago, Illinois, the Winslow family faces everyday challenges at school and at work but when they come home they are visited daily by their next door neighbor, Steve Urkel, played by Jaleel White. Steve is the main star of the show and was the family's shadow no matter where they were Steve was always there.
Two people who really catch the eye of fans are Steve and Laura Winslow, Carl Winslow's daughter, played by Kellie Shangyne. Steve was always trying to get Laura's attention to show how much he liked her, but his nerdy look and squeaky voice never caught the eye of Laura Winslow.
 Laura had her eye on Stefan Urquelle, who is also played by Jaleel White. Stefan was the highschool boy every girl wanted to date and was supposed to be the complete opposite of Steve. As Stefan and Laura's relationship grew the more Steve realized he was missing the one for him.
Ironically, while Steve was chasing after Laura, Myra Monkhouse, played by Michelle Thomas, was chasing after Steve. Throughout the show Myra is trying to win the heart of Steve despite his nerdy look and ultimately became his girlfriend in season six in the episode "Paradise Bluff". But despite their relationship Steve still had feelings for Laura.
Sadly, Michelle Thomas passed away Dec. 22, 1998, due to a rare stomach cancer. The cast and family members were devastated at the news of her death. Thomas was diagnosed at the age of 28 in August of 1997 and went into surgery to remove a tumor, but sadly did not make it several months later.
Jaleel White, who was close to her, said she had a friendly presence and loved to be around everybody. In one of his interviews White was describing how her life affected everyone and with tears in his eyes he remembered the impact she had on people's lives.
The show was enjoyable and hilarious to watch. The loveable characters and the life lessons they shared. It is safe to say that this show taught the value of family and friends and how to handle life's curveballs.
Sticking together as a family is what audiences saw as the ultimate goal of the show. And what it means to enjoy life is one of the core values the show had. So, the next time families gather around the TV, they will see how much family matters.