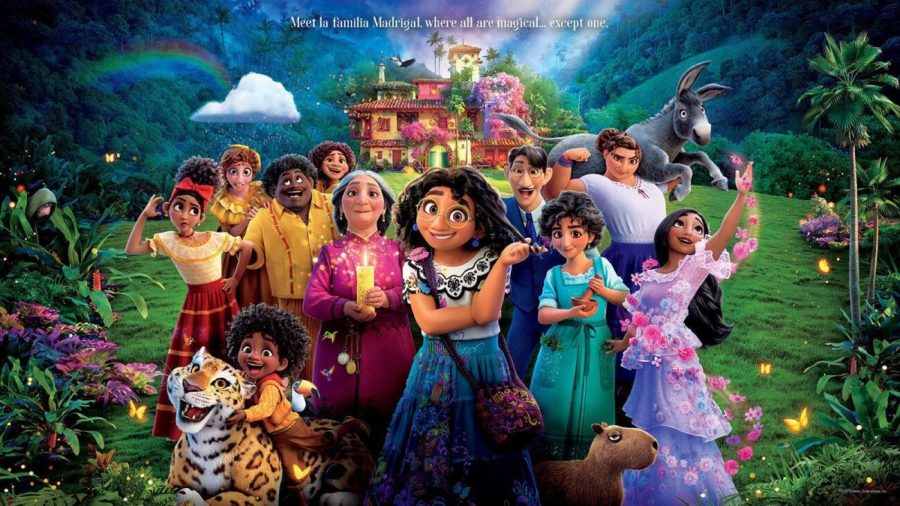 Encanto Teaches The Importance of Family
A movie surrounded by family-love and magic, Encanto captures how it can be difficult to be shown support or any type of attention when you are different from the rest of your family.
Abuela, the head of the Madrigal family, moved her family to the mountains of Colombia after they were forced out of their original homeland. Abuela was gifted with a candle that provided magic for the village and her family. 
Each child of all generations will be blessed with a gift at the age of five. Mirabel, the only child in the Madrigal family that wasn't blessed with a gift, has been treated differently from her sisters Lusia, Isabella and her cousins.
The film's main focus is on Mirabel and how she struggles to be "someone" in her family. Everyone has something except Mirabel, so she tries her hardest to provide and protect her family to the best of her ability without a gift.
Encanto captures how difficult it is to be and feel different from the rest of your family especially when they treat you as if you are different from everyone else. The movie shows how complicated everything can get when there is not enough love, appreciation and trust in a family. Encanto also honors other cultures' traditions, struggles and emotional experiences.
Encanto is not only a beautiful reputation of another culture, but it captures the feelings of being where you are constantly feeling as if you are a burden and letting your family down no matter what you do. But in the end, it demonstrates how family always comes together no matter the situation or circumstances.