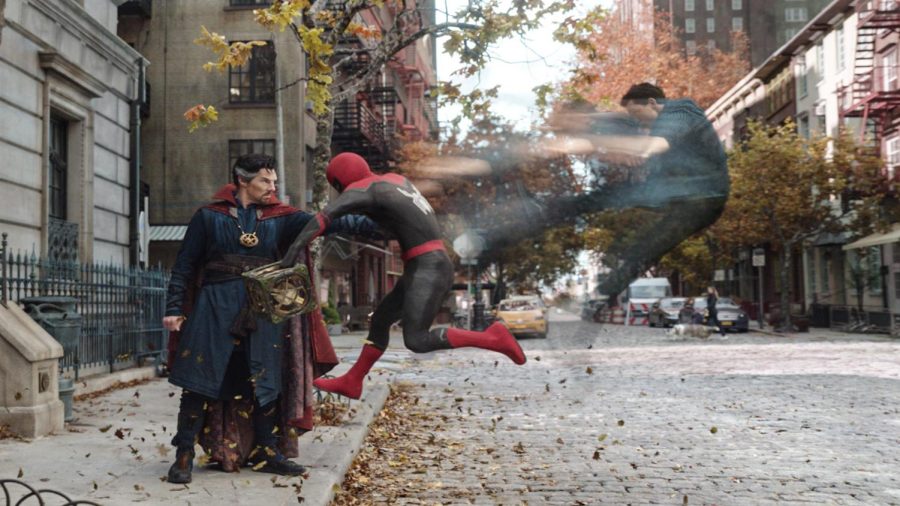 Photo Credit: Free Domain Image
Plot Twists Makes Latest Spiderman Movie Best of the Year
Swinging to the top of the charts comes the top grossing movie of 2021-Spider-Man: No Way Home. The fifth Marvel movie of the year crushed the charts bringing in over $1 billion at the global box office despite coming out at the end of the year on Dec. 17.
The third movie of the series stars Tom Holland, Zendaya and Jacob Batalon following the reveal of Spider-Man's identity to the whole world from Mysterio in the second movie, Spider-Man: Far from Home.
Now that Peter Parker has become publicly known as Spiderman, his life has become a complicated mess for not only him, but everyone he loves. He decides that the only way to fix his life is if no one remembers his true identity. He meets with Doctor Strange who agrees to help him, however Parker starts having second thoughts and repeatedly asks Strange for the people he loves to remember. This altering causes a huge problem, opening the multiverse to everyone who knows Peter Parker is Spider-Man and brings them to Holland's world.
"
It dives right into Holland's character like never before. Spider-Man is put to the ultimate test after he faces trial after trial to determine what extent he is willing to go to in order to save mankind and do what is right despite his own happiness."
— Kendall Cope
The movie includes special guests that completely change the whole movie experience. After seeing the movie twice, I can tell you firsthand that the excitement never leaves you no matter how many times you have watched the movie. I cheered along with several others in the audience when the guests appeared.
To prepare for this movie, several movies need to be watched beforehand, as they all connect and have impeccable detailing that you cannot miss. All three of Tobey Maguire's Spider-Man movies, both of the Amazing Spider-Man movies starring Andrew Garfield and the two Spider-Man movies of Tom Holland are on the must watch list. Optional, but highly suggested movies are Venom: Let There Be Carnage, the show Daredevil and truly all of the previous marvel movies. These pop up as details and fun easter eggs in the movie, but add extra excitement for the best movie experience.
The movie sets up the plot to be continued in the future movies of the Marvel Cinematic Universe. It contains not one, but two extra credit scenes, so make sure not to leave the theater until you have seen it all: finding out the next step for the series.
After recent controversy over the pairing of Sony and Marvel, I believe the companies successfully came together to release, by far, the best movie of the year. Spider-Man: No Way Home is packed with hilarious and exhilarating moments as well as excruciatingly painful scenes, so do not forget to grab a tissue box on the way to the theater.