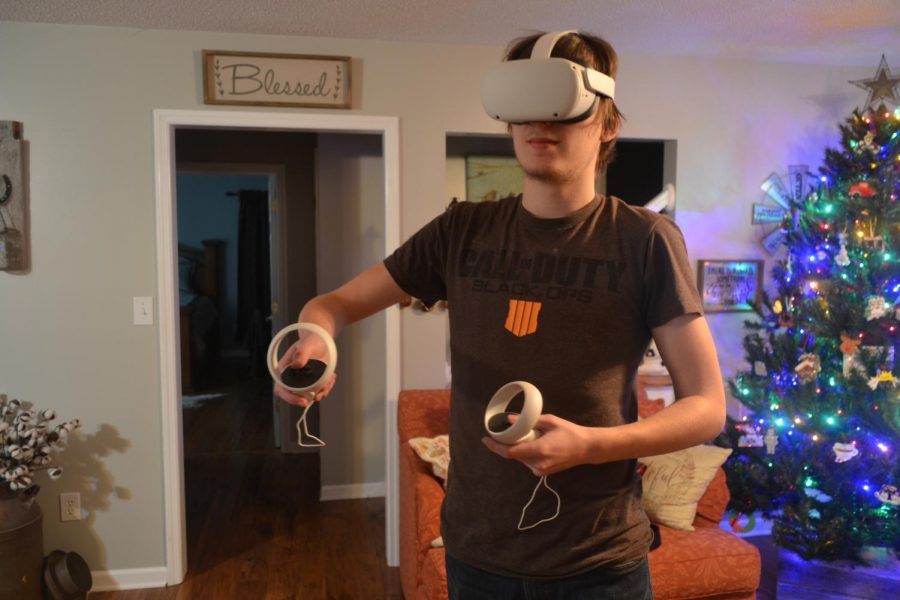 Photo Credit: Janda Harris
Oculus Popularity Rises Near the Christmas Season
When it comes to electronics, one of the most popular could easily be virtual reality. Most commonly referred to as VR, virtual reality has been a popular topic of technology for a while now. It allows you to play in your own reality with games and apps, with the headset making it seem like you are really within the reality. But everything has a price and seeing how many of these headsets exist, there may be a good amount of research to be done.
Currently, there are multiple brands of VR headsets, all made by different companies, along with their similarities and differences. This can lead to some difficulty in choosing which one is best, which follows days or weeks of research to confirm the one you think is best. The starting price for most headsets usually starts around $200 and goes up from there, one of the most expensive being the Steam Valve Index, priced at a whopping $999.
Who would want to mess with those kinds of prices? I sure would not. And that's only the price. Each headset has different hardware and software that can either be bad or good, which is hard to decide on most of the time. Cables are also difficult and disliked in VR headsets. Most require to be plugged into some kind of computer or electronic in order to be used, which is irritating to make room for. That's why many have stated that the best VR headset could easily be the Oculus Quest 2.
The Oculus Quest 2 was released last October during the Facebook Connect 7 event, starting at $300, cheaper than most headsets. There were 2 versions you could buy that only had to do with memory. The 64 and 256 gigabytes were the first to be released, memory obviously a crucial part to headsets. The headset was liked by the community due to its wireless compatibility and game variety. In the present day, these factors still go strong within the Quest 2's popularity due to it being one of the only wireless headsets.
I had bought a Quest 2 at Best Buy during the Black Friday week for the $300 128 gigabyte model, which replaced the 64 gigabytes later down the line. The first thing I really didn't like was the Black Friday sale didn't give a discount, but a $50 gift card to Best Buy. Honestly, a price reduction would've been better, but the $50 meant I had some money for a few games.
When I unboxed the Oculus, it was in good condition with no scratches or smears on the headset or the box (I was obviously expecting this since I bought it new, not used), which I was glad about. After I got the headset and 2 controllers out of the box, I proceeded to turn on the headset to begin the setup. A while after, I noticed that the display was kind of blurry, but not to the point where I couldn't read instructions. Other than that, I have not experienced any other problems with it, and it is said that there are other ways to improve the vision (I do not wear glasses and my eyesight is good).
 Once I had successfully set up the Oculus, I proceeded to buy my first games, which were both $20. The purchasing process for games is not complicated at all. All you have to do is register a credit card number onto the official Oculus store website, and then buy the game you want. A card number can be removed at any time and is safe to put one on your account, as a Facebook account is needed in order to use the Quest 2.