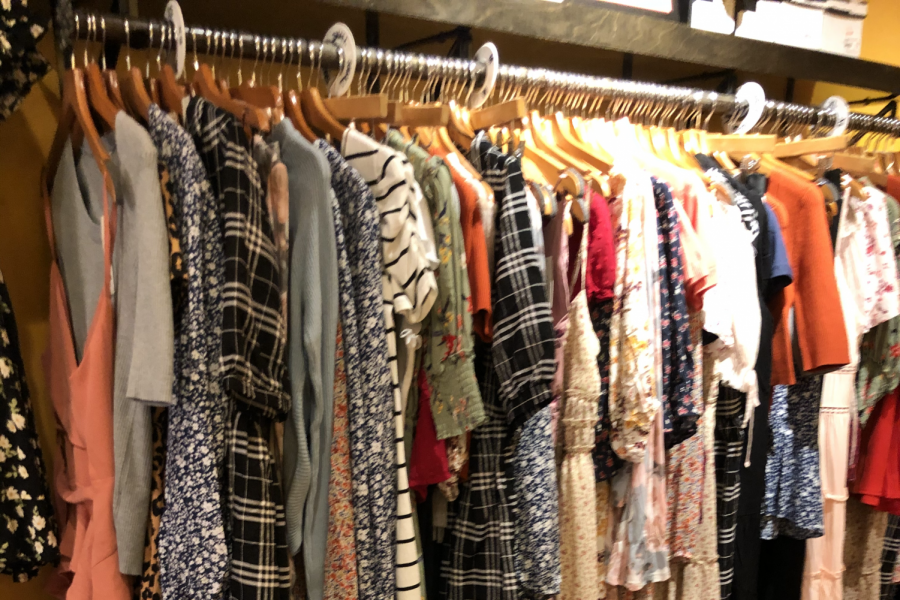 Photo Credit: Kyla Davidson
Boutiques Offer Unique Clothing, Gifts
November 4, 2021
From jewelry, to self-owned name brand clothes, shoes and dozens of other accessories, have been a special part of Huntsville's famous boutiques. These boutiques are bringing in the new season of fall with fashion and style. The fun of shopping sprees and the hours spent scavenging for your favorite shoes in the color you want is all the delight that these boutiques provide.
Bridge Streets' White House| Black Market Boutique owned byJavonda Blake, located in Midwest Huntsville has amazingly taken a step to really bring a unique and creative way to shine the light on fashion this fall season. White House| Black Market is taking the lead in bringing in the colors of autumn.
White House| Black Market completely expresses the upcoming season with earthy and vibrant colors of red, brown, yellow and orange. From my own perspective, I believe they had a good sense of style when it came to changing seasons and top fashion in our modern-day world. With Paris to London style scarves, coats, shirts, pants and leather jackets all make up this Boutique's beauty along with so much more.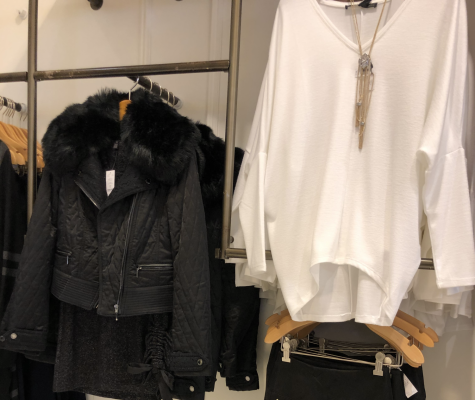 One outfit I liked and thought was unique was the single-breasted trench jacket with red,white and brown leaves that accent the left shoulder and designed with silver buttons that are uniquely carved. And the blue jeans that had a matching design like the jacket and a dark brown yarn scarf. This outfit is perfect for the new season of autumn. I also like the fitting rooms which were uniquely designed by the manager herself and I liked the antique chairs that had colors that really added to the warm autumn vibes. "I created all the visuals myself and I try my best to make everything look fully pleasing," Blake said.
The reason I liked the fitting room was because of its uniqueness. The design it had was an area with black-painted walls and each fitting room had a full-body mirror which I liked and I thought the black-painted wall actually gave it the ability to come to life. The jewelry I saw, I actually thought was unique. The necklaces that were on display because of their different designs and the jewels that were used to match the environment.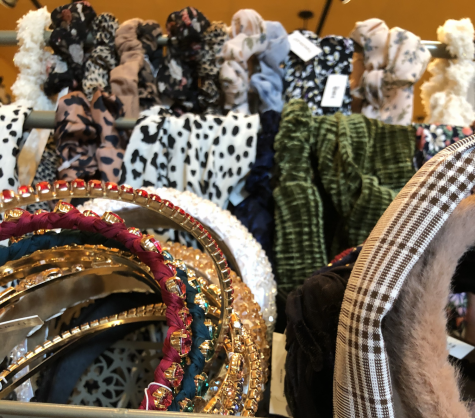 White House| Black Market Boutique original designs have officially set the move for Fall and is ready to take on this year's autumn fashion to a new level. I can say it was one of the best in their own design and the vibe the boutique had, especially the chandeliers that completely open and brighten up the place. This boutique was great for my critique.

The second boutique I visited was Francesca's, which is also located in Bridge Street. And what makes this boutique so special was its peculiar way of introducing fall. It naturally had that comforting autumn vibe and the tones of color especially brought out the new season change. Francesca's is a one-of-a-kind boutique because of its own natural feel and original personality.

"

This boutique was different from others because of its one and only candles, coffee mugs, hats and other home accessories, which brought out its originality. This boutique is the first of its kind that I've seen to have this kind of interior design. Honestly, it gave me more than what I expected, the candles and all the different accessories you could find surprised me. The fitting rooms gave me that soft, warm fall, October feeling.
"


One specific thing I liked about this boutique was the shelves filled with amazing, interesting and fun creative things like the candles that had these nice glass designs. They came in colors of pink, purple, white, blue, green, and red. I believe that the candles made it stand out and brought out the room but the candles, amazingly, still gave me the mood for fall. The coffee mugs, jewelry gave it its own sense of style.

The coffee mugs I thought were different because of the hysterical memes pasted on the front. My favorite meme on one of the coffee mugs was the one that said, "Details of your incompetence do not interest me." I believe this boutique was definitely amazing. The boutique was full of a variety of things to look at and experience. I believe this boutique in particular was standing out and was not afraid to be different.

Overall, I enjoyed exploring these boutiques and getting to know and experience what they have in common and their differences. Most of all I liked how they were not afraid to express fashion in their own way and know that you can have style that fits your personality and be comfortable. The environments and the staff were all playing a part in making the time spent there warm and full of fall vibes and that is what I enjoy about these boutiques.