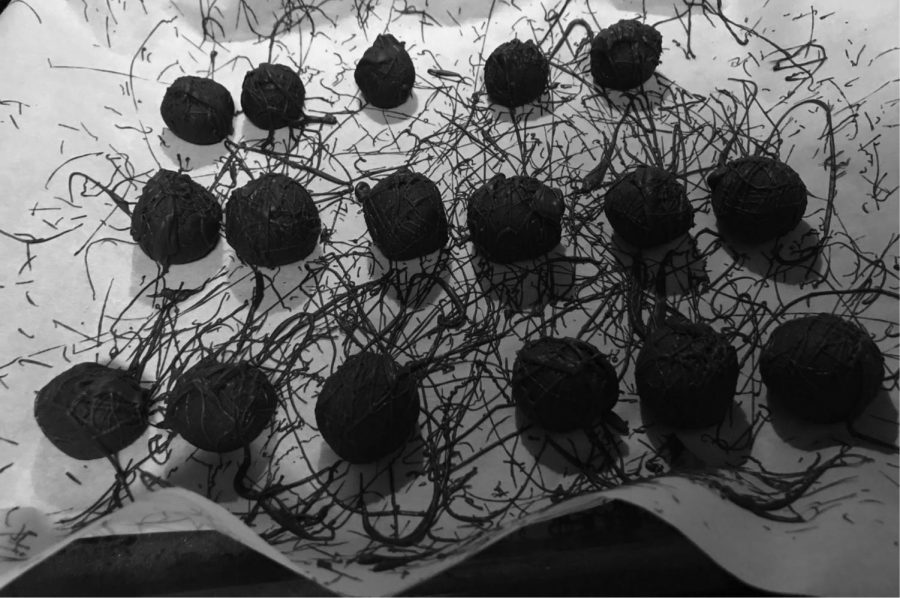 Photo Credit: Angela Ducote
Reporter Walks Through Baking Brownies
Welcome to the first segment of Gusteau's Kitchen! with Angie.  (Named after the Gusteau's restaurant in Ratatouille of course!)
I will be trying different recipes and reviewing them for you, giving you a thorough walkthrough of the step-by- step process of everything.
Today, I have made Betty Crocker's ™ chocolate brownie no-bake cookie dough bites and I was super excited to try these out. If you are a fan of cookie dough but you do not want to risk getting sick or easily getting an upset stomach, this is definitely for you!
The recipe is super simple, with adding only butter and cream cheese, anyone can do it! It only took me about 10 minutes and the recipe makes 18 bites so there are plenty for everyone.
As with making anything in the kitchen, always wash your hands before you start.
Next, soften ⅓ cup of cream cheese and 3 tbsps of butter together in a microwave-safe bowl for 20 seconds. If needed, microwave longer in 10 second integers
Once everything is soft, add the cookie dough mix into the bowl and stir very well. Place parchment paper down on a tray and shape each bite into 1-inch sized balls.
In a separate, small bowl, microwave the chocolate pieces that came with the mix for 1 minute. Stir and microwave longer in 10 second integers, if needed.
Dip a fork into the melted chocolate and flick it over the cookie dough bites so that there is a drizzle on all of them. Drizzle them as many times as you would like.
Place the tray into the fridge to set them into place. Once you feel like they are ready, you are free to eat them without guilt and enjoy these bite sized pieces of goodness.
While making these, I realized that the mix smells like chocolate protein powder, which I loved.  It also started to get really hard to stir everything close to the end. You always want to make sure that you mix all of it, no matter what you are making.
I would relate these 3.5 -4 stars. They are really good and easy to make, but not the best thing that I have ever had. I highly recommend it and it was cheap as well.