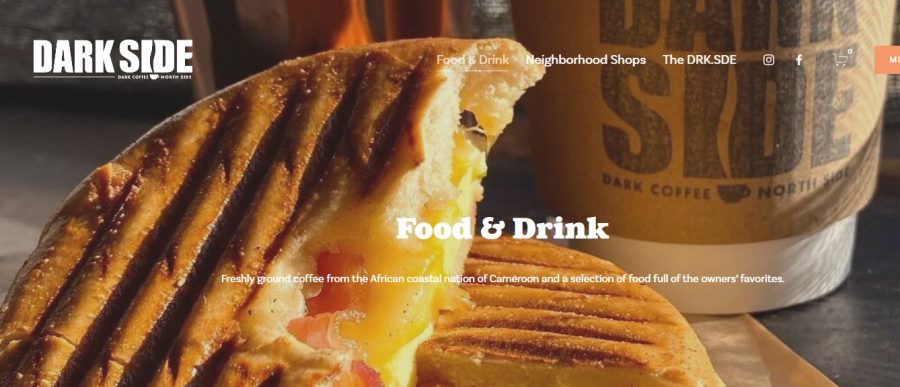 Photo Credit: www.drkside.com
New Coffee Shop Offers Great Decor, Along With Great Coffee
Opening at 6 a.m., except on weekends, is a new black owned coffee shop on Memorial Pkwy in Huntsville. Dark Side Coffee is not only serving great coffee, but also serves up a welcoming atmosphere during these distressing times. 
When I arrived with my parents I already noticed the socially distanced groups of friends there sitting and enjoying each other's company. With masks on when not eating or drinking, it felt safe and the music in the background made it even better. 
While waiting in line to order, I noticed the decor really fit the coffee shop theme. The best way to describe the seating would be chic. There was even a couch and a decoration that gave me a California feeling: it was a part of the wall covered with fake grass with "Watch Me Grow" written on the side of it. There were abstract shapes painted on the walls with orange and black being their main colors.
 "Welcome to the Dark Side" is written in between the pickup and the order sides behind a black painted background. The entire order station was painted black and I love word play, so I thought that was pretty clever. 
The wait was pretty long, but I did not mind it. They had just opened and were getting lots of business. When I got my coffee I was honestly shocked when I took my first sip. I am a Dunkin Donuts drinker and normally I have to ask for cream and sugar. I do not know if they added creme and sugar in the coffee before they gave it to me, but I did not need to add my own. Assuming that it did not add any, it was delicious. I can not remember exactly what it was called that I ate. It was a little messy, though, as syrup was poured on top. My parents and I ate in the car for safety and the food was a bit tough, but it was still enjoyable and it tasted good. 
I truly enjoyed my experience at Dark Side Coffee. I felt welcomed, tried some amazing coffee and the food was not all bad. I will definitely be visiting again. If you are looking for a new and